Rolled my eyes at it, but before that, attempted to do some long overdue troubleshooting. A while back, I had noticed after parking in the garage, that one of the LP lights was out, and the other one was flickering. Kept meaning to look into it, but put it off. I remembered changing the bulbs like a year or so ago, so guessed maybe something was going on that I needed to look into.
Was going to check the wiring for issues, so pulled the LP pocket. Not sure how it happened, but I snapped off one of the studs. Thankfully it's one of the bottom ones, but still. Opened the drawer of my workbench that has all the tapes and adhesives in it, and I'm fresh out of any epoxy.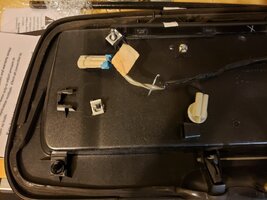 Pop the plugs out of the pocket, to find one socket empty.


The bulb that was in place was an OLD one I had from way back in the day. Did a quick continuity test on the harness and it was fine. Plugged it back into the lift gate, and turned on the parking lights. Of the 4 LEDs in the bulb, only 2 lit up, and after a minute or so, started to strobe.
Thought I had some other spare 194 LEDs in a bin somewhere but couldn't find them. Connected to a socket on my breadboard, I found this bulbs partner, so that explained why there was only 1. Threw a pair of stock bulbs in for now
Last edited: