Master Blaster
Original poster
Moderator
Well, I've been on here long enough and figured I'd get this started. Bought the 9-7x 5.3i two years ago. Traveled by bus from Ottawa to Barrie, Ontario to buy it (now there's commitment!) and drove it home. To give an idea with what I started with, here are some other threads:
9-7x: Lifted vs. non-lifted
Dealing with previous owners crap
And thanks to
@therealsethallen
, found posts on TV that were by the previous owner that gave me some history on this beast.
Lifting Saab 9-7x Where to start
Z71 spring in place of Airbags. Whats else is needed to mount them
MarkMC lift and 81114 moog springs too much for Saab
So it's now back to stock except for a few mods.
Current mods:
- 4" silicone intake hoses (no more resonator, love that sound!)
- older JVC double DIN head unit, no GPS
- carbon fiber interior (
No more wood!)
- fogs as DRL (Saab 9-7x: Fogs as DRL easily )
- Lime-Swap tune (disabled DoD/AFM, fan codes and torque management, improved performance, disabled PWM on torque converter clutch)
- thermal fan clutch
- Z71 rear springs (by previous owner)
- Bridgestone Run Flats 255/55R18 on stock rims
These are mods that I will eventually do as funds and time permit:
- powder coat stock wheels black chrome
- red gauge pointers (can't stand those white ones)
- black out headlight interior and add CCFL angel eyes (they are just begging for this!)
- Plasti Dip or flat black/semi flat front lower aluminum valance
- black out chrome on grills
- LEDs everywhere
- louder but mellow muffler
- Android double DIN HU with backup camera and dash cam
- de-rack
- Saab puddle lights
- Add switch to manually work headlight washers
The following mods I am contemplating depending on feasibility and funds:
- full dual exhaust with headers (from a TBSS)
- remove AWD system, turn into 2WD (useless system in summer and power/MPG hog)
- aluminum driveshaft to replace rusty steel one (to go with above)
- lower another inch or two
- go back to air bags on rear suspension (to go with above)
- Saab lighted door sills
- performance cam and tune to go with it
Right now, I have two priorities: replace the cam, lifters, pushrods, oil pump and timing chain due to lifter/valvetrain noises and bodywork/paint. I just ordered all the parts for the cam job and will do a separate article and possibly a video on this one. The body needs to be fixed up as our Canadian winters have taken their toll with surface rust at multiple areas and the hood with bad holes. She will never see another snow flake ever again! Also the front bumper is sagging and has separated from the fenders, which is a common problem.
Here she is in her current rusty glory!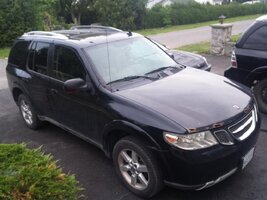 And here she is towing her parts truck last year, LOL!