A bit of help and then a question:
It should be known that a non-polar LED bulb (one that does not need to be flipped 180°) does not function properly in our corner markers (mine caused back-feeding, flashing my 4-ways during the day when I was signaling).
Likewise, with a polar LED (which only works one-way), they do not function 100% correctly either.
What to do?
I came across these neat things called "towed vehicle diodes" used to isolate two different circuits (RV/towed vehicle) and prevent back-feeding.
https://www.amazon.com/gp/product/B0002Q81Y4/ref=od_aui_detailpages00?ie=UTF8&psc=1
As soon as I saw these things, an LED went off in my head, and I thought installing one of these could get some useful functionality out of my very bright LED corner markers during both the day and night.
Here's what I did: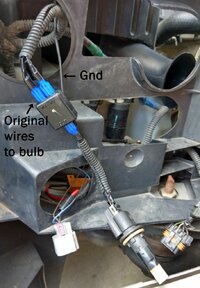 1) I cut the T10 socket out
2) I soldered one side of the socket to a ground wire (which connects to the 10mm bolt on top of that metal cross member where the front quarter panel also attaches)
3) I attached spade connectors to the remaining wiring, connecting the "OUT" to the remaining side of the socket, and the signal/park lamp wires to the "IN"s
Now my corner marker lamps function as turn signals during the day, and solid running lamps at night (they do not alternate-flash at night).
This will work with either type of LED bulb, and even with normal incandescent bulbs, but it's really only useful for LED's.
Question:
Now, 4 diodes come in a pack, so what to do with the other two?
I had roughed in the control circuitry to use my LED fogs and LED reverse lamps as auxiliary work lights a while back, however, I couldn't find where the reverse lamp wire came out of the fuse block!
I have installed the remaining two diodes behind my tail lamps, but I can't figure out how to route a wire from my relay at the rear fuse block to both of the tail lamps.
What's the easiest way to get a wire from the rear fuse block to the tail lamps without drilling through the floor?

Bonus tip: Likewise, these diodes could be used to add strobing functionality to the existing reverse/tail bulbs for those of you POV people.