Howdy folks... Been a while.
I've been stock piling parts and keeping quiet while doing months and months and months of research on here, "the other site", tbssowners, Tim's tech pages, multiple fb posts and DM'ing people on social media. First task was swapping my 1SS steering wheel without the buttons to a steering wheel with the buttons and to make them work! Last night, i finally bit the bullet and tackled this with 100% success!. Through all of my research, pretty much all of the "important info" was lost, meaning articles were deleted, or members that did do this swap couldn't remember what wires did what, or the "OG's" that did this in the beginning did not swap steering wheels and used a stationary box that contained 4 switches or the vendor supplied Trailblazer Dash Plug that was modded to fit the buttons to toggle the prompts. So I'm going to solve that now and make an updated version for future people that want to tackle this.
This is a very easy and straight forward mod. Don't overthink it like i did. If you don't feel you're mechanically inclined, then this mod is not for you as you're dealing with airbags and clock springs. For how to's on removing your air bag and steering wheel, there are plenty of videos on YouTube on how to do this so it will save me the typing lol. Now i know SS' are different than your applications in the sense that all SS' have the DIC instrument cluster already. The capabilities are just dormant due to the trim package. What i mean by DIC is the Drivers Information Center for those that didn't know. It's where your mileage is displayed. Earlier model GMT360's did not come with the DIC. For clarification if yours does, if you open the driver door, does your cluster display read "drivers door ajar"?, or if your tires go low, does your cluster say "check tire pressure"?, etc... if so, then you have a DIC that's capable of being modded. If your cluster only displays mileage, then you have to find a cluster that has DIC capabilities from a donor vehicle. They are plug and play, but you will have to visit a dealer to get your mileage programmed to the new to you DIC. Clear so far?
Next, you will obviously need a Steering wheel with buttons. Mine came from a 2002 Bravada that i found on eBay. I didn't care what the buttons looked like as i was replacing them anyway. I only cared about the leather. Once you found your wheel, you will then need a clock spring from any vehicle that has a steering wheel with buttons. Mine came from a 2007 Rainier. Make sure you're keeping the clock spring straight at all times so you dont spin it and break it. You DO NOT need the WHOLE harness. You can cut the harness in half leaving you with only 4 plugs, 3 for the airbag, and one for the steering wheel buttons. You'll see what i mean in the pix. After you have all that, next are the pins. You will need 4 pins with wires to plug into your cluster wire harness. The non steering wheel button rigs do not have these wires coming from our cluster harness. I just cut the cluster harness from the Rainier i got the clock spring from and used 4 pins out of that. Again, you'll see that in the pix.
Here's the important info that everyone gets hung up on, WHAT WIRE DOES WHAT and WHERE TO CONNECT them...
A8 is fuel on the cluster and will go to the yellow wire on the clock spring harness
A9 is personalization and goes to the purple wire on the clock spring
A10 is trip and goes to the dark blue wire on the clock spring
A11 is select/ok and goes to the orange w/black stripe on the clock spring
The radio wires on the clock spring are the pink and green wires. I have not hooked this up yet but will in the next few days as i just got my Axxess ASWC-1 steering wheel control harness. If you have a factory radio, the volume/source buttons will not work. It takes alot more to get them working over an aftermarket radio. You have to get your BCM reprogrammed and run wiring to the BCM.
Lastly is the black wire from the clock spring. It's obviously a ground and will need to be grounded. The brown w/white stripe wire with the 2amp inline fuse is your illumination for the buttons and must get spliced into the brown w/white wire from your left headlight harness (if you're looking at the face of your headlight harness, it's the harness behind the parking light'headlight switch, not the harness behind the fog light button if you have one).
This is a brief overview of what I did. Now since i don't know what all the buttons do since i never had them, I'm not sure if the button i hit corresponds to what the DIC should read. I hit the button with the fuel pump on it and my gas mileage and fuel range popped up so that tells me I had the right wire for that one, etc...
Here is the clock spring that i cut and the gauge cluster wire harness that i cut from the donor vehicle.
This was taken from one of the old threads i was researching and describes the 4 wires you have to add to your cluster. Also below are the wires i added to my cluster harness.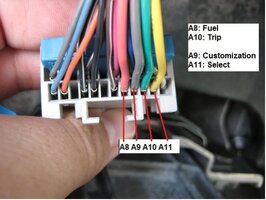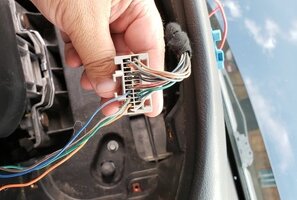 Let the fun begin!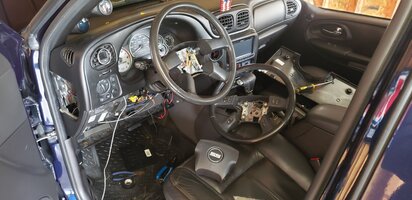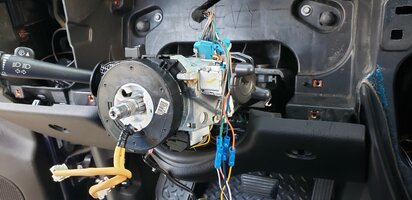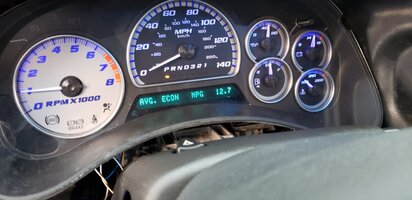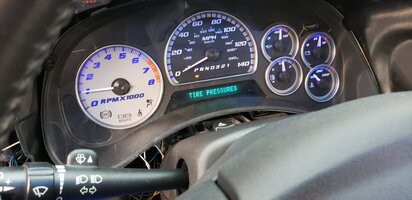 MONEY SHOT!