So I got a new Android 10 HU for the TB. I never had any luck getting the steering wheel controls on any of my trucks that came with them, even with adapters. However, my 07 LS did not come with them.
I recently replaced the entire steering column so that I could have the switches. A little research shows that two wires in the column sends the signal to the BCM, via different resistances, which then sends the signal over the GMLAN to the stock radio (see attached schematic).
On Android and possibly other aftermarket head units, there are wires called Key1 and Key2 as well as another one called Key ground. On past units, the ground wire was not properly marked or described. This one was. At first, I connected the two wires from the column to Key1 and Key2 and it didn't work. Then tried Key1 and Key ground and the HU received the signals and I was able to program the switches.
So the two wires you need to get are PNK in the C201 position in the connector and L-GRN in position A12, as per the photos. I just cut and extended them to the HU's Key1 and Key Ground. I added spade connectors in case I needed to take it out later. You could also just tap into them if you want to leave them in place. Doing this on trucks that came stock with the switches also eliminates the need for an adapter that would translate the BCM's signal to resistances that the HU would understand.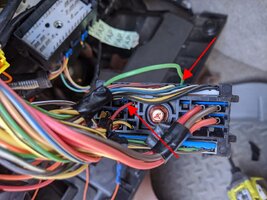 I have checked for different years schematics and 2002-2006 are the same as described above with the LT-GRN wire. 2007 says the LT-GRN wire is LT-GRN/WHI (my column came from a 2006). 2008-2009 schematics also say LT-GRN/WHI but for the PNK wire says the connector position is now called X201 instead if C201.