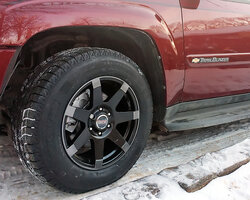 I went from 16-inch to 17-inch winter tires (Michelin Latitude X-Ice Xi2) and wanted to get black rims to match my beloved American Racing black Trench wheels but if course they are no longer in production. Not wanting to settle for black steelies, I did some shopping around plus visited my local tire shop. I was quite surprised.
As our platform ages, wheels choices are getting slimmer BUT there are a couple of new models on the market that are - surprisingly - available in our 6x127mm (6x5) bolt pattern.
Tire Rack has a couple of new choices in black. I almost ordered the Sport Edition TK7 wheel:
These are the ones my dealer recommended. Vision Wheels "Milanni" line has a 9042 Sultan wheel in our bolt pattern.
http://www.visionwheel.com/wheel/32065/9042-sultan-matte-black-wanthracite-spoke-ends/
They were delivered to me in Winnipeg Canada in under two weeks and my dealer had them ready to go right away. I was originally going to spray bomb the anthracite accents to match the black, but now that I got them on, I will stick with the factory color.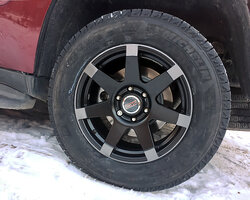 There seems to be more choices in Trailblazer wheels now than there was two years ago.
Anyone else found some great choices?
If anyone is on the Manitoba area, my local garage is Canadian Supershops on Portage Avenue in Winnipeg. Good folks and they delivered what I wanted, at the price they promised and faster than expected.