Almost as soon as I got my recently acquired 2000 Chevrolet Silverado parked out there in my driveway… I took the first opportunity to look over the engine compartment for the possibility of having more space to work around I than I was used to seeing with the 2002 TB. Then I had to do my homework and find out more about the history and layout of the 4.6L, 5.3L, 6.0L LS1 Engines… so I 'Hit the Books' using the two new shop manuals I have from Chilton and Haynes covering the 1999-2006 Full Size GM Pick Ups and then I watched quite a few Youtube Videos from "The Sloppy Mechanic" series and many others on the Camshaft and Valve Springs R&Rs and Tear-Downs of numerous Old LS Motors. I honestly had no idea how spacious and accessible the two Exhaust Manifolds and Engine Heads on the 5.3L Engine under the hoods of these larger trucks really are!
And now the idea of being able to change out a Camshaft without having to R&R the Intake Manifold or disturb the Heads is making me crazy to want to make some immediate upgrades with say… A Low-Lift, Low LSA (112? 114?) Camshaft/Valve Springs and some Shorty S/S Header Upgrades that will give my motor a "Slight Lope at Idle" and neither require any immediate Tuning Changes to the PCM to run in general… nor having to inSTALL a 2800-3000 RPM Higher Stall Torque Converter to keep it from crapping out when the Traffic Lights Turn Green. All I want to do is to drive this nice looking, Indigo Blue Pick Up Truck with a V8 motor around the CID size of "The Ol' Chevy 327" ...making a Nice Lope at Idle, with a little Performance Bump up front so I can go to and from Walgreen's… or perhaps to Walmart and back… and occasionally to the Gas Station and just enjoy myself for a change by simply getting to drive something that I really, really like.
Never having had a GM LS V8 Engine with a Valve Train and Rocker Arm Assembly that are both accessible and serviceable with equal ease… I determined that they also lend themselves to being greatly upgraded with a simple, $100 Trunnion and Caged Needle Bearing Kit to improve what is probably the only serious Achilles Heel laying in wait up inside the Top End of these Engines. Each one of these OEM Rocker Arms contains 33 Unrestrained Needle bearings that can wreak havoc if allowed to come apart at any RPM and become distributed throughout the interior of these engines. But… Anybody with a "Bean" and a Bench Vise or a Small Arbor Press from HF and armed with some Common Sense can completely eliminate this very real threat in very short order and forever with a Kit that will ensure smooth Rocker Arm Action ...all the way up to 1,000 Horse Power:
… This is What the Kit Looks Like: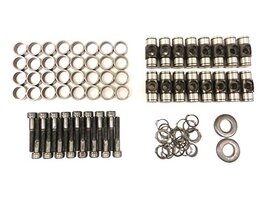 … This is Where to get it:
https://www.amazon.com/Michigan-Motorsports-Rocker-Arm-Trunion/dp/B075X5PQHN/ref=sr_1_1?ie=UTF8&qid=1522688142&sr=8-1&keywords=ls+motor+trunnion
… This is a Comparison with the OEM Version on How to Rebuild them with an AMK covering the CompCam Kit from Summit:
As for the Camshaft and requisite Valve Spring Upgrade… Melling has come out with Two Cam and Valve Spring Kits that will not only provide a substantial bump in HP with a nice Lope at Idle… These do NOT require getting the PCM Tuned… Nor having to upgrade or replace the Torque Converter… although getting the Tune for the wider Air to Fuel Ratios and changing the Transmission Shift issues at the adjusted RPM levels would make sense. But if I do make these Mechanical Changes and I manage to 'Get My Lope On..." and it drives me around the block and the neighborhood in good stead… I'll be fine with that, too. Here is "George from Melling..." introducing these two Mild Performance Camshaft Kits (CS-MTC-7 and CS-MTC-8):
… And this is What the MTC-8 Camshaft Sounds Like… Loping at Idle in 2006 Sierra with a 4.8L LS Engine:
...Same Truck… Different viewing and listening angle:
Last but not least are… The Shorty Headers:
I keep seeing the Stainless Steel versions that run between $100-$200 on Amazon and eBay with varying looks and quality and some sketchy incompletion of the TIG Welding on many. When I can find one that has Quality S/S with Thick Head Flanges and completely circumferential Welds around the Primary Tubes… THAT will be the one I buy. But… I'm not interested in paying $450.00 for these Pipes… so only a Happy Compromise in the Price Range vs. Quality will make it happen.