Wasn't certain where to Post this circumstance: (Tool Talk? Amazon Listings?) but since the problem DOES have a Technology Issue behind it... Here goes:
Last week, the
Duralast Platinum AGM Battery
in my Silverado took a a Helluva Hit after I accidentally left the Ignition Key in the"ON" Position all day long and completely forgot about the DTRLs making a constant drain on it, risking a power drop under 4 Volts DC.
My fear of it further dropping below to the Dreaded
"Point of NO Return at 2 Volts DC"
had to be avoided. Research indicated that Conventional AC to 2-10 Amp 12 Volt Battery Charging Units might damage the
AGM
Style Batteries. So I avoided hooking up the one I have on hand and ordered-received a North American (Six Cell Design)
Deltran 'Battery Tender' Selectable 6-12 Volt Charger and Maintainer
available on Amazon, specifically designed to avoid this Charging Problem:
https://www.amazon.com/Battery-Tender-Selectable-Lithium-Charge/dp/B07XMJDJX7/ref=sr_1_6?crid=3QGH1QMJBM0Y2&keywords=deltran+battery+tender+plus&qid=1581638025&sprefix=deltran+,aps,203&sr=8-6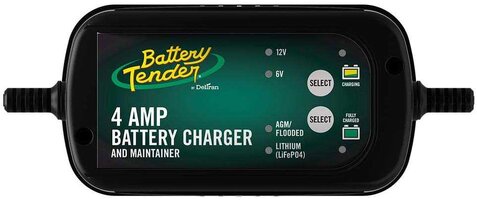 After hooking it all up and leaving it on for around 6 Hours… (
Red Positive to Red Positive
and
Black Ground to the Alternator Bracket
) the
*
Flashing* Green 12 Volts DC Selection Light
and the
Solid Amber Charging Indicator Light
remained on in Combination indicating that this
AGM
Battery had managed to "Come back from the Dead" and was back up to around an 80% Charge.
The Instructions recommended leaving it on for a Full and Complete Charge while performing so at the rate of 1.25 Amperes Per Hour. This Unit employs a Micro-Processor Unit that will NOT allow the
AGM
Battery to Over-Charge. I'll have to be much more careful from now on and remember to regularly use this "Trickle Charge" Unit when not driving the Truck on a regular basis. Leaving the Deltran Charger hooked up and running for extended periods is acceptable.
Last edited: