Hey there forum people. I discovered this place when trying to figure out if an Envoy tailgate would fit a TB (I can confirm a 2003 Envoy to 2003 TB works) and through a bit of discussion it's been brought to my attention that people like pics.
I've decided to do a cheap Tremclad facelift on this TB that has significant cancer on the doors, hood and tailgate. Instead of messing around with fiberglass. So I picked up some solid panels from the wrecker and the job has started.
Over the weekend I've managed to get under the hood, the inside of the doors and the door jambs painted. For Tremclad, it's not turning out too bad.
But I have an issue now. The rear passenger door latch is sitting about 1/4" too high on the body. Is there a way to adjust this? Another issue on the passenger side is the front door is binding on the fender and when I've loosened all the bolts, it doesn't seem to have adjustment to slide forward. I've gotten the hidden one at the bottom by the wheel and the upper one behind the door as well as the ones along the top of the fender. Did I get them all?
Anyway, here's some pics.
Typical rot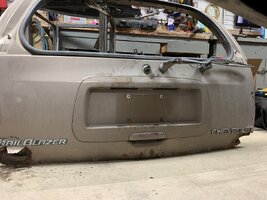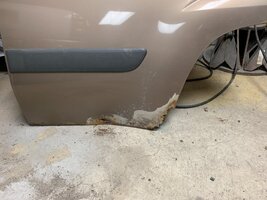 Progress so far