So, as some of you know, I stuffed the 9-7x into a tree like a goober Labor Day weekend. To replace it I got myself this 2003 Trailblazer 4.2 LS for stupid cheap. It's an oddly optioned truck. It's an LS with cloth. But it has a sunroof and OnStar. Something I haven't seen. I am in the process of finding an unlocked 2004+ radio so I can add my XM Tuner to it. It's got 171k now. The hood is rusty, but we have plenty of junkyards with good hoods.

DISCLAIMER: Much of this is carry over from the 2005 9-7x, and while not complete yet, they are the mods that were already done to the Saab and will make their way to the TB.

The Truck
2003 Trailblazer LS
4.2 I6
4WD
3.73 Gears
G80 Locker

The Suspension Mods
9-7x Front Sway Bar
Monroe Load Adjust Rear Shocks
Monroe Quick Strut Front Struts with .5" Leveler
The Engine/Performance Mods
Magnaflow 11229 Muffler
Resonator Delete
Side Exit Flowmater Chrome Tip

The Lighting/Electrical Mods
Silverstar Bulbs
Quad Headlight Mod
DRL Kill
LED, Reverse Lights, Plate Lights, Interior and Mirror Turn Signals
Cobra CB Radio
Kenwood 2-Meter Radio
Emergency Lighting

Appearance Mods
LEDs In and Out
Black Bowties on Wheel Covers and Door Molding
Color Matched Bowtie
Massachusetts Love Cape Ann Special Fund Plates
AVS Window Visors
Interior Tool Storage System (in progress)​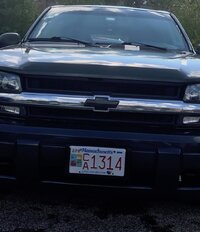 Not quite sure where I am going to go with this build, but here we go! Mod bug has bitten, and it's time to start draining the bank account!