Original poster
Lifetime VIP Donor
So, as we all get used to 'life under coronavirus', I've reconsidered having the rear axle noise diagnosed / fixed before beginning my long-planned (and long-promised!) build. Partially, it's because I'm now suspecting that the noise I'm hearing may be U-joint / driveshaft / pinion related, and that whichever it is, it's in 'early stages'. Might be misplaced optimism, but I'm sticking with it, for now.
Which means... this is now a perfect time to start the build, in earnest, since my personal mobility is being limited right now.
- This won't be a 'one-to-two day' project (although I'm sure some of you could do it in that time) -- so, if you're interested in following, you may want to 'subscribe', so that you'll be notified when I post something new / worthwhile.
- For the same reason, don't expect 'daily' updates.
- If you see I've done (or about to do) something 'wrong', don't be afraid to voice your concern. I intend to explain why I'm doing certain steps, as they come along. (but I'm also aware that my postings easily become longish, so striking that happy medium may be a challenge, at times!)
Here's a couple photos of our 'patient'...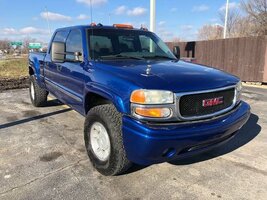 This first one is how I 'got' the truck. 2003 Sierra 1500HD, with about 230K.
You'll note the C3 / Denali grille / turn signal housings / bumper cover (which is not flush due to the previous owner not using the special brackets required with that cover), along with the H2 rims / big-ass 315/70/16s.
The owner before him had a CB Radio in the truck (that's what those antennas behind the cab are for).
This truck spent the first half of its life in Texas, and there's almost no body rust / only surface rust on the frame. Lucky me.
Those bulging rear fender flares indicate that this truck has Quadrasteer. Thankfully, the previous owners didn't use this for towing boats, as the system is still operable. Incidentally, those flares are... fiberglass, meaning that they'll never rust, like the rear wheelwells normally do. The rest of the bed is steel (and it has a Line-X bedliner, which is in excellent shape, for a 17-year old truck. Lucky me, again.
Over the last several months, I've replaced most of the front suspension, tires / wheels, tailgate (which was dented), the rear axle (a 35-spline Dana 60 with kingpins), new rear hubs (which are like front hubs on a 4WD truck), caught the truck up on maintenance in various other areas, replaced the Flowmaster with a stock muffler / tailpipe, and gotten it to this point:
Yeah, those are Chevy center caps - sue me. LOL Tires are BFG 265/70/17s (highway tread; I tow with this truck, and don't leave pavement). Those are new headlamp / turn signal housings, and the OEM grille / bumper cover. Added a soft tonneau & nerf bars (you don't see the passenger one here, but it's there now)
The gap you see between hood / fender / grille is because I forgot to latch the hood before taking the pic (oops).
I also turned on the QSteer in this pic, to emphasize the 4WS, but you can't really tell, here (it moves a maximum of 14 degrees, so it's subtle). Oh well...
Yeah, it's dirty. Sue me again.
Drivetrain on this beast is an LQ4 6.0L and a 4L80E, to go along with that Dana 60 rear (which has a 4.10 gear). While my previous 1500HD had a lot of torque, compared to the 5.3L Envoy XL I was towing with, this motor is even stronger. Which makes me think it's got a tune, at the very least, and maybe some aftermarket parts. We're going to find out, as I plan to replace / upgrade the following:
- Heads (with new rebuilt 317s)
- Tow cam / lifters / springs / timing set
- Oil pump (not 100% sure on this, yet)
- Intake (and I may relocate the knock sensors to the Gen IV locations on the side of the block)
- Items which get touched on the way to the cam (like the water pump, hoses, etc.
- Tuning / dyno
- Couple addn'l appearance items
All of the above will be on top of the stock (?) bottom end, which has good compression / power / oil pressure, and doesn't burn / leak oil (which is why I may forgo the oil pump upgrade). I also had Blackstone do an oil analysis to make sure that wear metals on the engine looked good before spending $$$$ on this project. After doing the intake gaskets & killing off another vacuum leak or two, this thing is running like a top now (outside of the noise in the rear end that I mentioned at the beginning). But... I want 'more' (typical American...LOL)
Since the 6.0L has a rep for having a bulletproof bottom end, we're going to rely on that, for now. At some point, depending on how these mods work out, I may decide to put on a turbo setup (which works better than a supercharger, at elevation) - if I go that route, I'll probably get a spare block and build it up, given what I'll be spending on the turbo(s).
So... with all of that said... let's get started tearing this beastie apart!
(to be continued... )