I have been getting a lot of questions about plastidip on wheels So I figured I would make a thread for everyone to see.
Ok To start plasti-dip if you don't know is a rubberized coating most commonly used via spray can, When dried the finished is a nice very slight gloss flat black. Its available at a lot of common hardware stores and runs on average $5-$6 a can. The greatest advantage of plasti dip and why it is seen on almost every Automotive forum is that if you get tired of it, It peels away. Listen to your fellow GMT guy its not hard to pull off, I have no idea where people get these outrageous ideas that It takes hours to strip a wheel of plasti dip. Guys have also used this on there paint it is a harmless product on TBSSowners you will see plasti dip pillars,stripes,dash panels,vents,grills...it goes on for ever. Plasti dip has also released a glossifier that can be used over matte plasti dip to give it that clear coat look which I will be experimenting with soon. Basically Plasti-dip can be used for endless applications.There has even been sites entirely dedicated to automotive plasti dip.
Plastic Dip Intl. 11203 Plasti-Dip Spray: Amazon.com: Home Improvement
Anyway on to your wheels.
PREP:
Take your rims off..obviously then I used diluted simple green and scrubbed inside and out get the rim CLEAN as possible and make sure they are completely dry before moving on. So simple get em CLEAN
TAPE:
this is an iffy area heres what I have learned and had rage so you don't have too lol, If you tape first do the best you can to get the tape as far in between the rim and tire as possible, Since its a rubberized coating and not paint if you have plasti dip on the tape and rim that is bonded together when pulling the tape it will take the plasti dip off the rim as well. Via TBSSowners many guys have used index cards with the thin stiff edges they can get in between the lip much easier and the angle they sit at create less problems with the bonding. You can also use a razor to trim the lip before pulling the tape. Honestly after the first mistake I didnt even tape off anything the plast dip has a very rough time bonding to the rubber I was able to rub my hand around the tire and it all just came off. MAKE SURE YOU TAPE OFF YOUR VALVES! DO NOT WANT PLASTI DIP IN YOUR TPMS/VALVES!
Looks good but they can be deceiving lol
PAINT:
The best way to start is with a THIN layer after drying it feels grainy and you should still be able to see the chrome through the black, I found this is the best way to get a solid bond. Make sure you hit all the little spots and insides of the spokes with the first coat leave nothing untouched.
about 75% through the 1st layer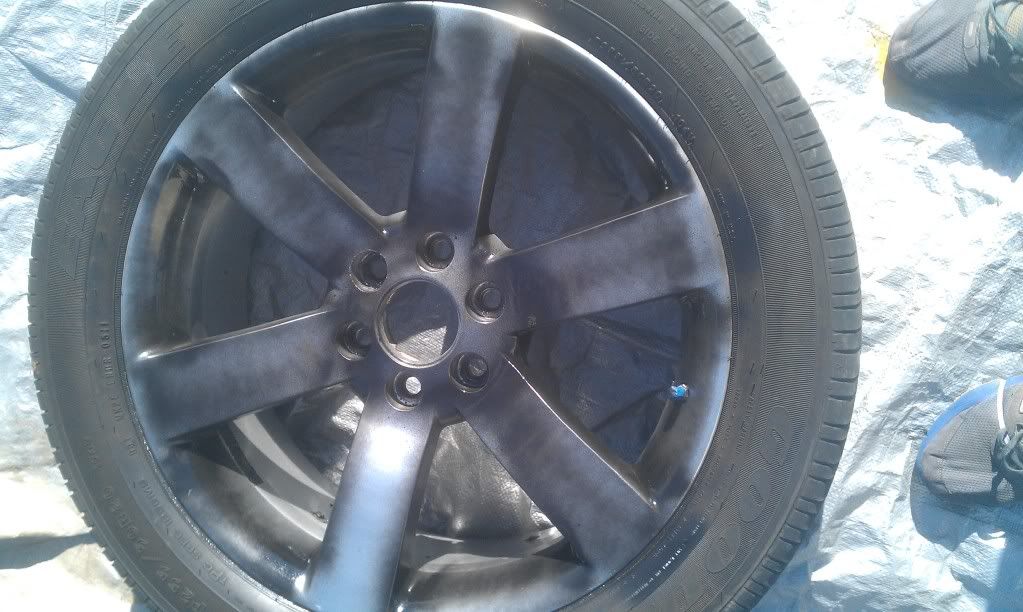 Following that I added about two to three more coats,I was impatient and waited about 20-25 minutes between coats it does dry pretty fast but you can probably give it a little longer to get a good set. Use a smooth back and forth spray just like spraying anything really, do not spray close this stuff will lump. When coming back for another coat make sure to flip the can upside down and give it a few sprays to clear the nozzle there will be a little build up and you don't want to spray that mixed with the fresh plasti dip on your rim. This is the result
**Going back I would recommend doing the inside of the rim first that way if you get some over spray its not going to affect the outside of the rim just peel your drips off and your good to go, On the inside I just used 1 base coat and 1 nice thick coat.
Durability:
Im going on roughly 2 months of it being on my wheels. It has been through 2 nice salty snows and I do use a gravel road on the weekend on the farm and around lakes and it has held. TBSSowners guys are seeing up to a year of continued use and some longer BUT keep in mind if your going to do a lot of off roading like a lot of you do I don't think you will see that longevity, I'm not saying if you go on a dirt road your screwed but if your going to ride with hardtrailz or Regulator for a day I'm pretty sure your finish is not going to come out as nice as it went in. *If you use a touch car wash your playing Russian roulette some guys haven't had an issue some have seen some peeling
All in all your getting black rims for roughly $30 thats $490 cheaper then I was quoted for some PC and you can get rid of it! Perfect for a winter rim or if you want to change things up for a couple of months. I can honestly care less if my rims are dipped I will never drop 1K on rims on a ss that would be put straight to the LS2 chrome does not drop my times lol. Hope this helped some of you guys out.
*Easiest way to remove plasti dip is pick an area around the lip and create ALOT of friction with your finger and it will eventually peel and then your can start "skinning" your rim.
[video=youtube;eDCI12JR4Xo]http://www.youtube.com/watch?v=eDCI12JR4Xo[/video]