Part One of Two Parts:

Over in my "Hoping for Loping" LM7 Engine Performance Upgrades Thread... I mentioned this issue as described in detail in this excerpt:

"Continuing on the Theme of the S/S Exhaust Installation... I spent the afternoon dragging out the (3) Very Heavy QuickJack Hydraulic Lift Boxes and then went through all of the Set Up Procedures with NO Problems. The Videos covering "How To" set up this BL-7000 -EXT Series and all of the others consisting of QuickJack Hardware are all over Youtube Like A RASH ...so I will not belabor those issues here.



The REAL PROBLEM I encountered after completing this Task though, was that Y2K LONG BED PICK-UP TRUCK HAS NO DECENT UNDER-BODY LIFT POINTS SPACED OUT IN ANY WAY TO ALIGN WITH THE QJ's UPPER FRAMING LIFT SUPPORTS AND SUPPLY A WEIGHT BALANCED OUTCOME.



The Y2K Truck only has VERY Short, Flat sections of Steel Boxed Frame Railing running down both sides of the Truck. They Start just Aft of the back sections of the Front Wheel Wells and then run further Aft for a VERY short length of around 4 Feet or so, then they suddenly Curve and Arc upwards under the Middle to the Rear section of Truck Bed.

This leaves NO "Square and Level" Locations that perfectly align with the Upper Frames of the QJ Lift(s). So I pondered this for a bit while remembering that if necessary... the QJs CAN be arranged from Side to Side to lift any Vehicle. However,

I don't want to have to resort to that because placing them in such a position will obstruct my Open Access to the Exhaust System.



When I ran out of Daylight... I put up all of the QJ Gear (Quite Manageable ...Thanks to the Quick Disconnect Hydraulic Hoses in Four Locations on the Rig). A check on the Internet from the QuickJack Site revealed interesting Accessory Platforms that extend its overall length by 6 Inches (which does NOT help me). However, it has Rail Sections along its length that CAN be used in a way that the QJ Engineers may not have thought of... and solve the present problem. These Things are costing me an additional $260.00 w/S&H Included and look like THIS when added on top of the Existing QJ Lift(s). They should be here in about a week:

I'm also looking at their QuickJack CROSS-FRAME SUPPORTS, too since those can be arranged to support the entire vehicle for a TOTAL Front Suspension R&R ...or... to hold up Transmissions during Engine Installs when the need to Raise or Lower them might prove helpful or necessary. Again, If I need to get these too, they'd run another $250.00 + S&H ... but I'm not quite there yet. In the mean time... I'll work on other things in preparation for this portion of the Bigger Project."

So anyways... Recently,

@rchalmers3

started a Unique Project involving him creating a "

GM-GMC Holistic Engine and Transmission Break In Station"

that began with him constructing a Pedestal Roll-Around Base Frame out of a Spare OEM Trailblazer Box Frame. His work touched upon much of what I will be doing to create a

Modified Tubular Sub-Frame Jack

as an addition to my

QuickJack BL7000-EXT Lift

; a job which will also involve Welding up some fairly sturdy

"Sliding Block Supports"

to extend the places that I'll be able to re-align the necessary

Lift Point Supports

bi-laterally under the Fore and Aft under-framing of my

2000 Chevrolet Silverado 1500 Long Bed Truck

and have it resting correctly on the Hard Rubber Blocks: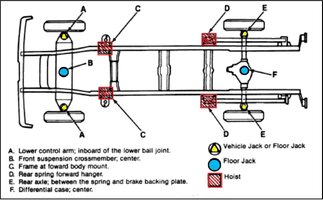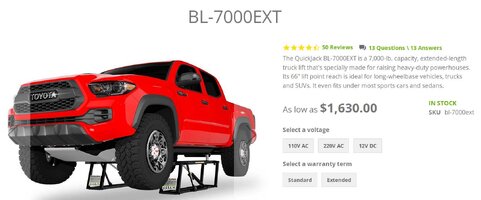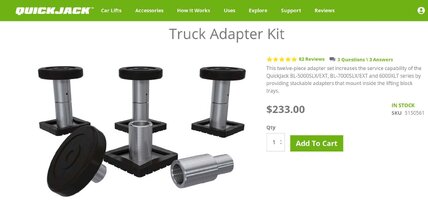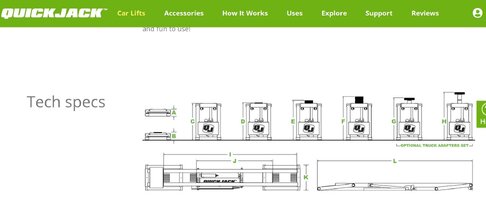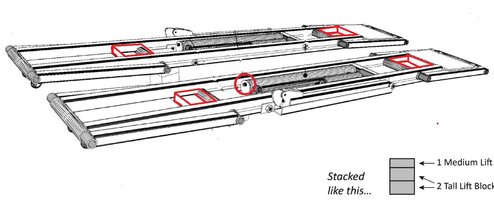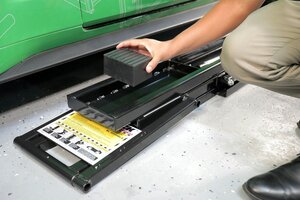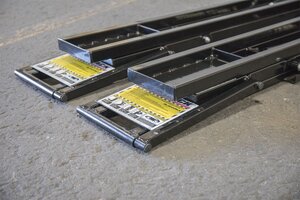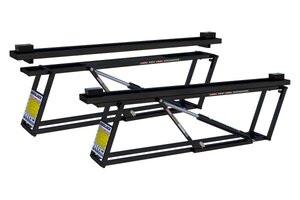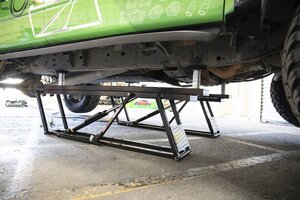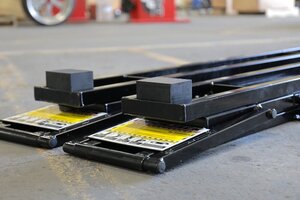 More to Follow...
Last edited: