Well, I took the boards off the TB and put the spare in the cargo area, while we were in central VA (vacation all last week), and the wife and I took Friday afternoon and did one part of the trail that JamesDowning showed before. I took his map and circled in yellow the part that we did. We went in Switzer Lake Road, and wet up to where it T'd with Flagpole Rd. I think James had a picture of that intersection on his write-up as well. We did something like 17-18 miles off pavement (just short of 9 miles one way)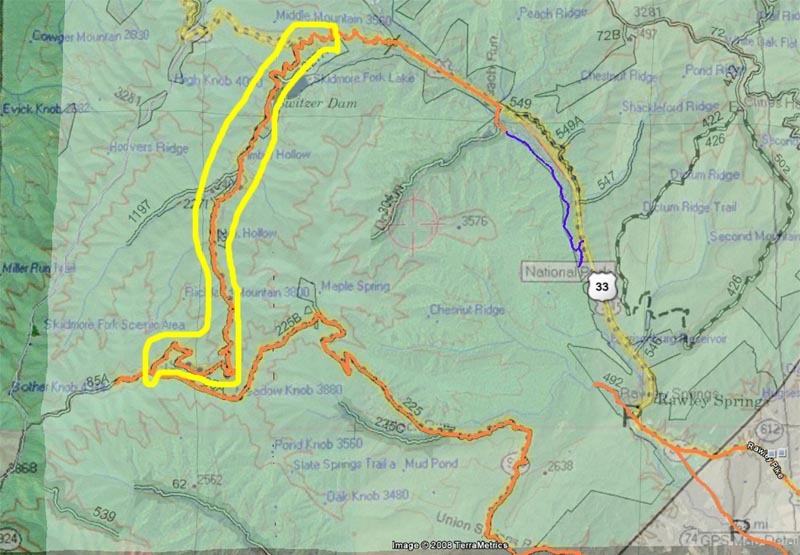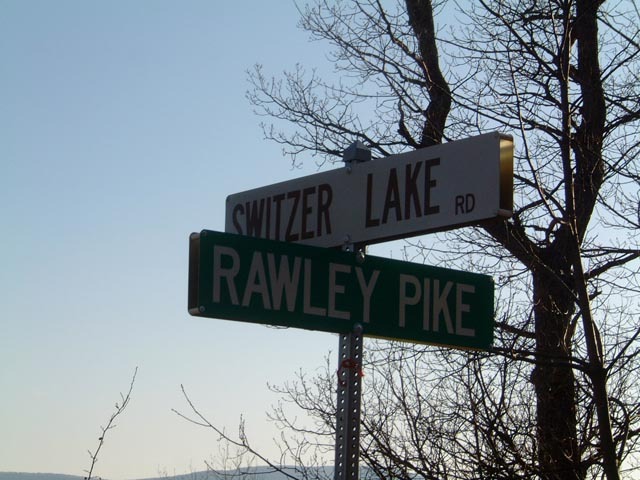 Starting out, getting down to the lake, it was mostly gravel, with some rocks sticking out maybe 2-3", and this bridge was shortly after the lake. Before the bridge, I stopped and let some air out of the tires. I set them at 28psi hot (so ~25 cold) because I wanted to let the tires be able to absorb sharp rocks without getting a puncture, but sure didn't want to slip a bead or anything.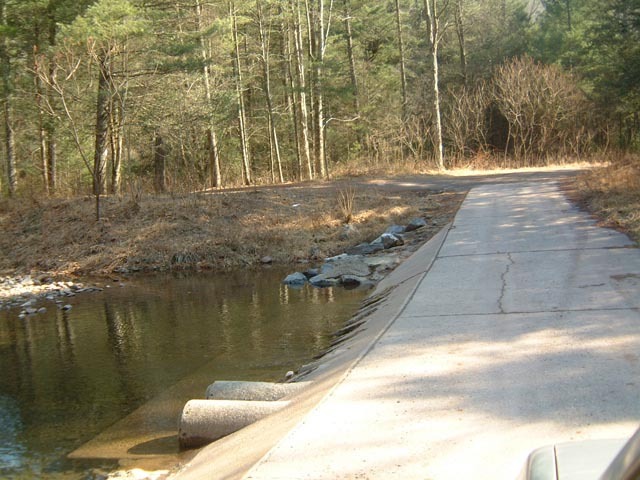 Awhile later, we did a (very) small water crossing through a steam. As you can see from the pictures, it barely touches the wheel, and has a rocky bottom of smooth rocks. Not a big deal right now, but could get pretty interesting if there's a lot of rain, I suspect.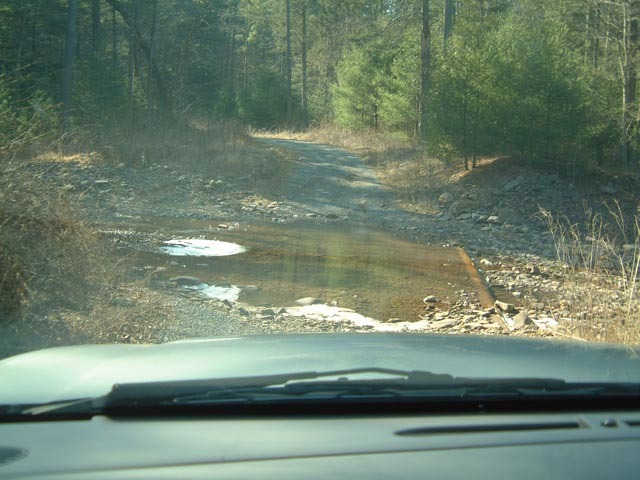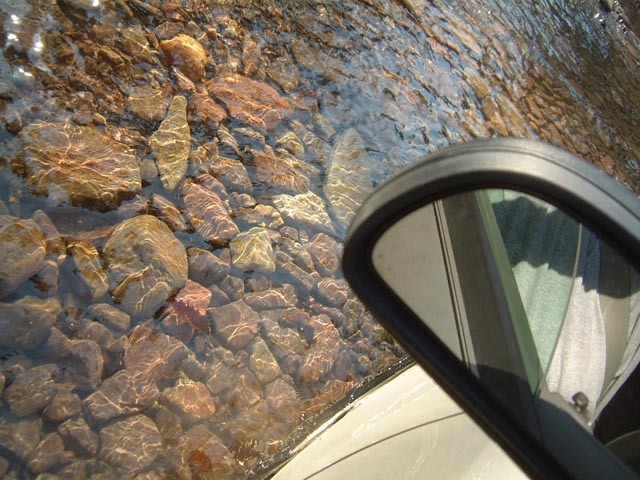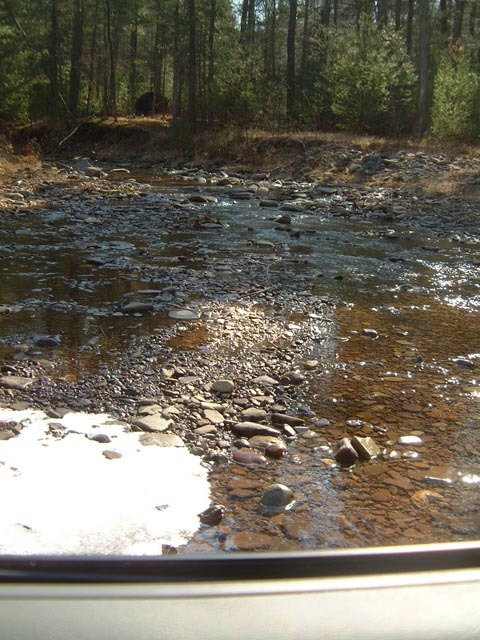 A small dry wash we went through next… It was completely dry, but again, could probably get pretty interesting if there's a lot of rain.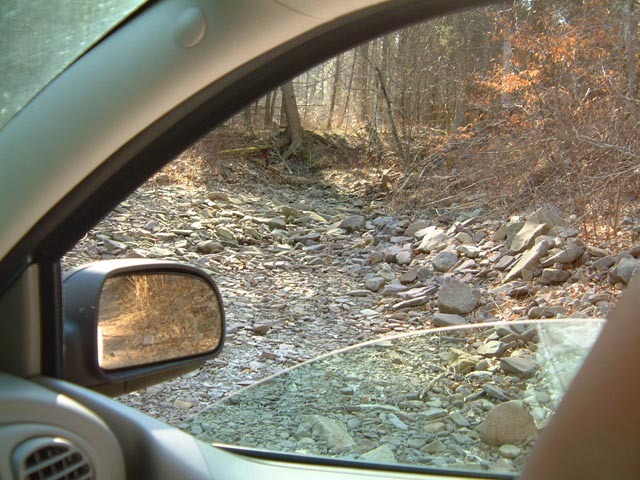 A log over the trail that somebody had cut for us.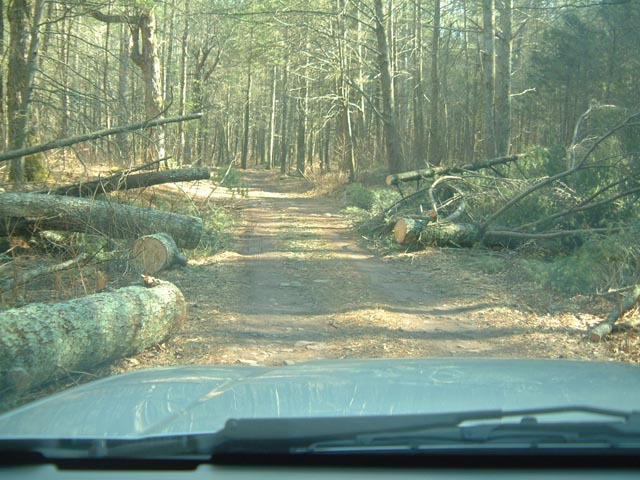 Do remember, folks, that this is bear country (see the bear marking tree in the middle)… Remember your bear bags for food, and all that stuff…
http://www.fs.fed.us/r8/gwj/general_info/bear_safety.shtml
Also remember that if your CCW permit works in VA, it works in the forest, as long as you're not bow hunting.
George/general_info/faq.shtml
"The second exception to this law allows people with a concealed weapon permit to carry a loaded, concealed, handgun either on their person or in their vehicle while on National Forest. This does not apply if the person is engaged in a primitive weapons season or chase only season."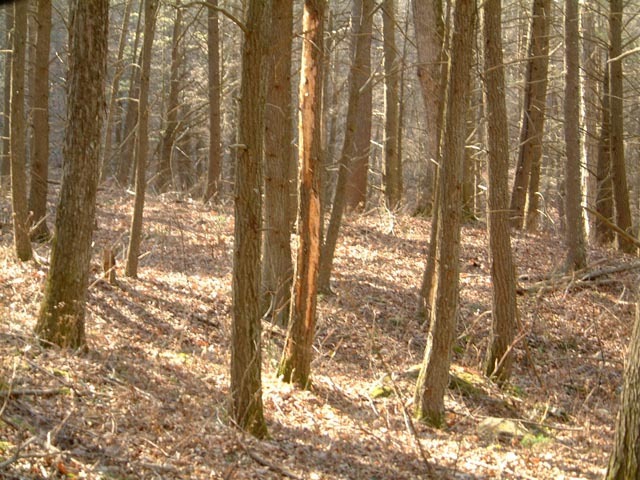 Here we are at the top of the hill, at the intersection of Switzer Lake and Flagpole Roads. This was a good place to turn around, because just less than half of our daylight was gone (We got there at 2:30, and it was 3:30… 2 hours away, and I can't get my wife out of bed on vacation before 11AM), and I wanted to be scheduled to be out of there by 4:30, so if we got hung up or came up on somebody that was hung up, there was extra time before dark. Also, I wanted to go the other way out like James did, but didn't want to travel down something that I couldn't get back up, then have something on the other side that I couldn't get up, effectively sticking me in the middle and getting dark… no thanks. This was especially the case since the roads on the north side of the mountain had melting packed snow on them from the 6" we got earlier in the week. So we turned around. I didn't know where the rough stuff and deep water crossings that James posted about were located, so the plan on the way in was to go until we found something I didn't feel comfortable with, then back down to a turnaround and head back out. Apparently, the tougher stuff was on the other side, on the other trail.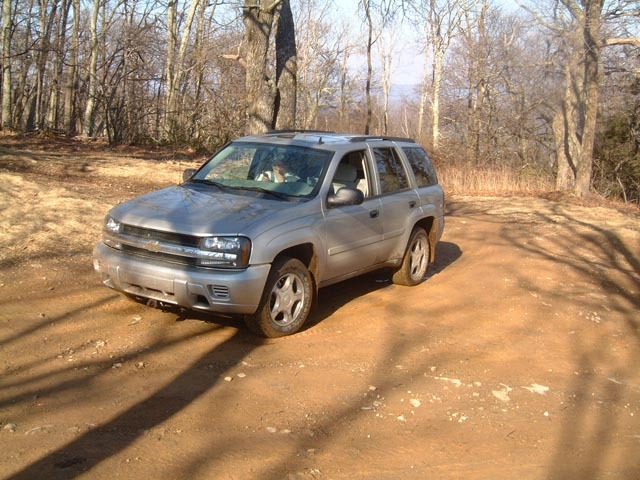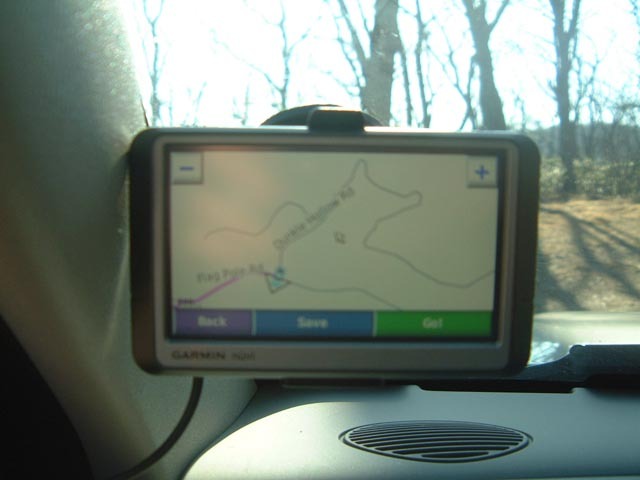 On the way down, I was un-stressed enough to take some pictures once we got out of the packed snow/slick/steep areas. There was rougher stuff than this, but being alone, stock height, and on stock rubber, I wasn't going to stop in the middle of anything cool. Yes, I did have the Hi-lift (with winching attachment) and shackles/chains/straps/etc for self extraction, but didn't want to intentionally put myself in a place to have to use it.
In order to not have to use the brakes much going down (especially with the slick snow/slush), I just kept it in 4LO, and locked it in first range, and let it take me most of the way down.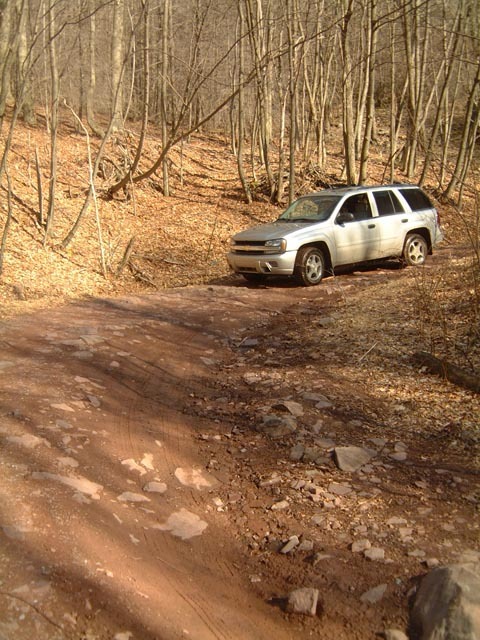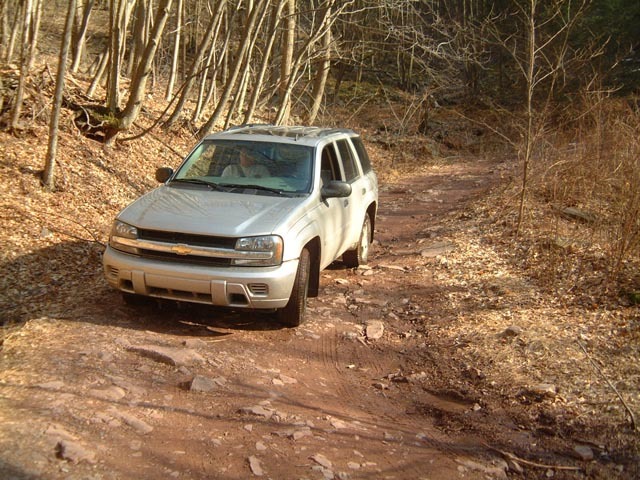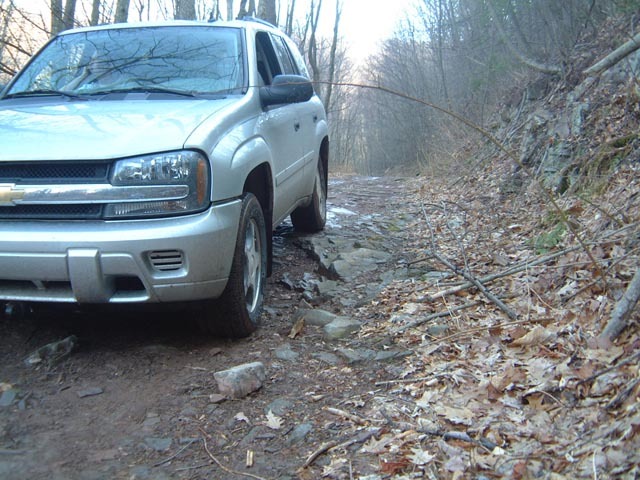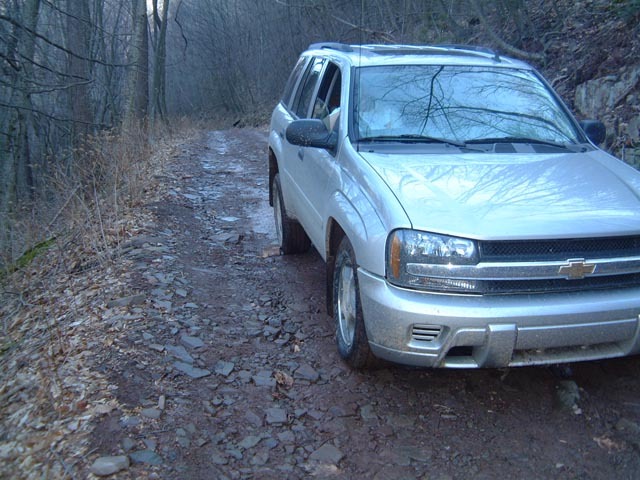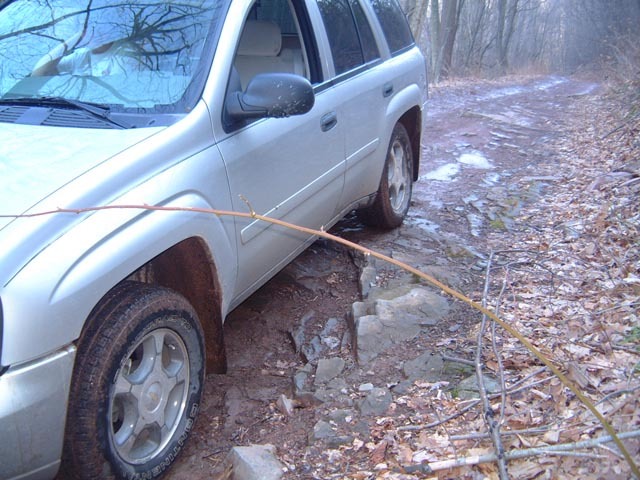 Here we are back at the entrance of the road, airing back up. Yes, it's a cheapo compressor, but I had 3 of them with me (took the ones out of my other 2 cars, before leaving home) plus a bicycle pump. I will get one of the $80 "real" compressors like James has, but it's not been high on the priority list, since most of "our" wheeling is on construction sites and across fields and such, where airing down is unpractical given the amount of time spent off road vs. the amount of time driving to and from.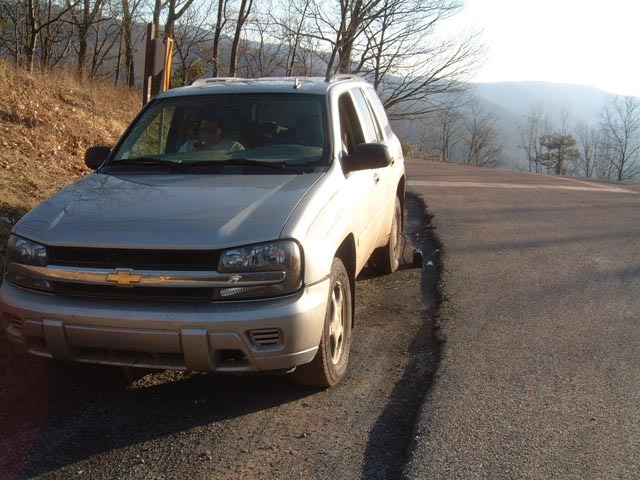 Yes, I hit the hitch and skid plate a BUNCH of times on the trail… Again, not something that I was really interested in stopping in the middle of to get pictures… I was doing like I am used to doing with my old S-10, and straddling ruts, and running the tires over the big stuff that I couldn't miss entirely, but I smacked the Curt front hitch, my Aluminum skid plate (remember, I have the V8, so mine is flat, without the "pyramid" sticking down for the drain plug), a couple "dinged" on the exhaust, and several rubbed on the fuel tank skid plate. These were mostly loose rocks, though, so I wasn't really worried about it, given the protection I've got from the hitch, aluminum oil pan plate, and GM fuel tank skid plate.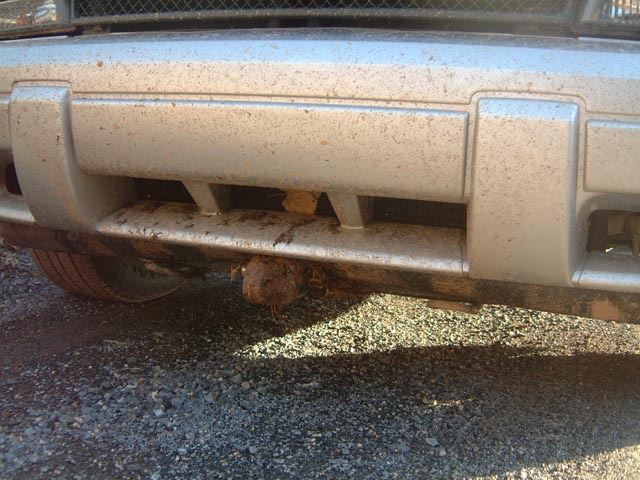 These are my tires… About half gone OEM Conti TR's… There wasn't any REAL mud (lots of muddy puddles, but with rock bottoms, and not very deep), and I aired down some, so I didn't really have any problems with them. This I'm sure is partially because when it started getting rough, I put it in 4LO, and have the G80, so even on the snow covered hills, and unweighted rear tire events, I didn't slip much at all.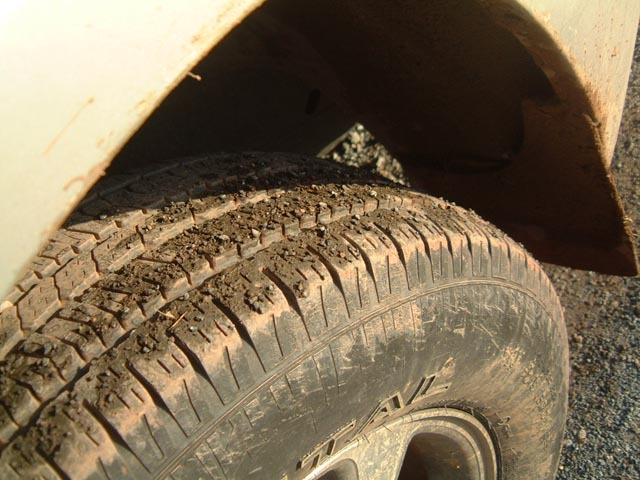 Cont...