There are plenty of posts about the cut that is necessary to add a cabin air filter, but the doors are difficult to come by. There is a company that prints them and that is where I got my door. However, I managed to break it while installing. They had excellent customer service and within a few days they mailed me a replacement.
However, this left me with out good AC in the Texas summer. So I ordered the door that is for the next gen of Trailblazer/Envoy. It is too long, but I thought that I might be able to mod it to work. It worked great!
I cut it short at the second reinforcement and cleaned off all of the burs. This made it a good length.
I drilled a 1/2" hole just inside the reinforcement. A smaller hole might work. The raised area to screw the door into place has to pass through the hole.
The end wouldn't slide into the retaining slot. I ground off the 3 raised areas of reinforcement and the tab slid right in. One might open up the slot on the airbox a bit instead. I then used a 1 1/4" drywall screw and a fender washer to secure it. A 3/4 inch screw might have been fine. I had an entire box of the drywall screws. It worked great!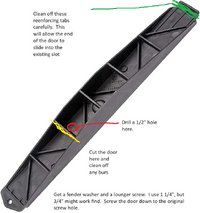 View attachment 62251