I'd like opinions on the photos here, if you'd be so kind. Not the image quality, of course - the condition of the head.
This is from a rebuilt set of 317s that I got nearly a year ago (so returning them is a 'ship that's sailed'). When I got them, I chased all the exhaust and spark plug threads on both heads. But I missed these items (and wouldn't have seen one unless I removed the valve). New seats and hat-type seals were installed; valves are original to the head (and in excellent shape), and I swapped out the springs / keepers / locks to LS6 beehives.
Now, over the past few days, I originally thought I'd be stuck with one of the options, and after some thoughts / research, am now thinking the other ones are available, as well. But I'll withhold disclosing my decisions until I see some feedback.
Am planning on using the stock GM MLS gaskets (.051 thickness); am open to other options, but my main concern now is potential leakage through the valve. I put the valves / springs back in and will fill the chambers with a bit of water, to see if there's any leakage. Inexact, but it's all I can do right now, short of either installing the head to the block surface, and checking pressure retention / leakdown then, or taking the head to a shop (and it seems the ones around me are closed for Covid vacation). I don't want to waste a gasket / set of TTY bolts, if I can avoid it.
First, the Intake valve... you'll see a small gouge that extends from outside the seat through to the inner seat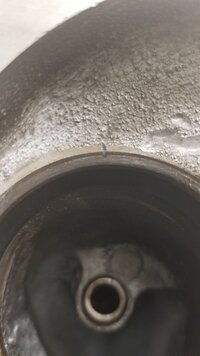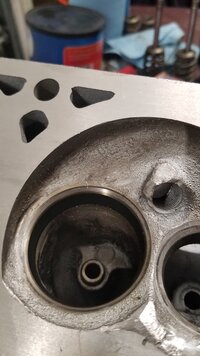 (The first of the second set of pics below will show the valve in place, as well)
This second group is a scrape on the outer edge of the exhaust seat (in about the 7 o'clock position):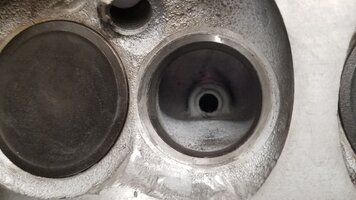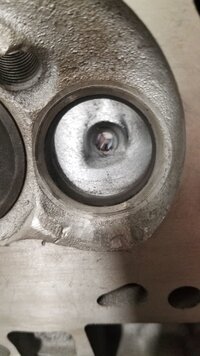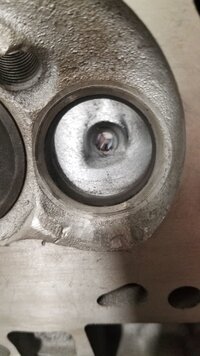 You can also see some additional scraping outside the valve seat, and on the spark plug boss. I did run a magnet across the surfaces, and it doesn't seem they were repaired with JB Weld or anything (e.g.; not magnetic / ferrous). If they had, I'd know I couldn't use them, as JB Weld wouldn't hold up past 500F.
So... your thoughts?
a) Use as-is (you see no problem at all, and the machine shop that did these apparently didn't, either)
b) Have a shop repair (welding is a possibility, if I can find a shop open)
c) Trash the head and get another one (I've been looking, but most 'rebuilt' options are selling a pair, not one)
Thanks, fellas. I want to do it once and not worry about having to R&R later on.