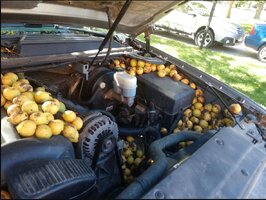 Yellow-husked black walnuts crowded the insides of Bill Fischer's truck. The foraged fare filled every vacant corner — packed tight behind the fenders, wedged between the engine parts, piled deep below the hood.
The Fargo, N.D., resident had returned from a four-day work trip earlier this month and anticipated the discovery. His neighbor's walnut tree had just harvested, after all, and a furry visitor probably hoarded the round treasures somewhere safe — Fischer's truck.
Since 2013, Fischer, 56, has dealt with the strange phenomenon every two years — the tree's maturation cycle — and, without fail, a red squirrel selects Fischer's Chevrolet Avalanche as its hideaway.
"I've got other vehicles that sit very close to that tree, and it's always my truck," Fischer said in an interview with The Washington Post. "I've even parked purposely out on the street — as far away as I can from the walnut tree — and they still go find the Avalanche and hide them in there."