Original poster
Moderator
Rim Specs
Part Number---9089-7938
Hub Centris-- YES
Size--17x9
Bolt Pattern-- 6x5.5
Offset--6mm
Backspacing-- 4.75"
Load-- 2200lbs
Weight-- 27lbs
Jobber-- $246.85
Center Cap-- 9342141
Finish is Knight Khrome
Tire Specs
Part Number--67305
Size-- LT305/65R17
Load Range-- E
Sidewall--BW
Max Load-- 3195 lbs
Overall Diameter-- 32.8 in
Overall Width-- 12.2 in
Tread Width-- 10.0
Tread Depth-- 21.0/32nds
Rim Size--8.0-11.0
Weight--58.0 Lbs
I bought these in August of 2009.
Intial impressions- These are the best freaking tires I have ever bought. I have ran MTR, BFG AT and MT, Firestone MT, knockoff Mud and Snow, Dayton Timberline MT, TSL SX, TSL Thornbirds, TSL SSR's, TSL Radials, Silent Armors.
These tires ride smoother than any of the rest, They are not loud, you hear them but less than most MT I have had, they grip everything. More money than I thought I would spend, but worth every penny.
The wheels look amazing. Tone of compliments and seem really well built. They are supposed to be a powder coat type finish and last forever.
Pics from when they went on...
Pics from later on
They are tough offroad...
STILL HELD AIR ALL DAY
2 years later...
These tires have done excellent. Could not ask for any more from them. Just measured the tread depth and 13-14/32nds left. Amazing. About 30,000 miles and they are great except some of the siped areas are about worn through, but I have not noticed any less traction. They show some offroad scars, but no air loss issues ever. Minor chunking from time to time after lots of rock use, but no more than any other tire.
September, 2011--
The wheels...DO NOT BUY PRO COMP WHEELS! The finish looked/looks good, but the edges turned black real quick and one is now rusting. I tried for warranty help with the finish turning black before and got nowhere. They have a 3 year warranty so I will try for the rust...on an aluminum rim...warranty. Pro comp has never been great for customer service and I know several others with various pro comp wheels that have had finish issues and pro comp has not worked with any of them to alleviate the issue. The wheels work and are tough, but for the cost, the finish is junk. They still look ok from a distance and they have taken some hits and a few little chunks n lots of scrapes are in them, but they do hold air and seem true.
Update- Talked with Pro Comp rep at 4x4 Jamboree and he told me just to email pics of the rust and they would take care of me. Did not want to see the wheels, just said no problem and I would likely get a new set of wheels since they don't make this wheel anymore. He said they were not powdercaoted as I was led to believe earlier, but where a chrome finish that could rust and they would fix this issue. Hopefully it works out.
RUST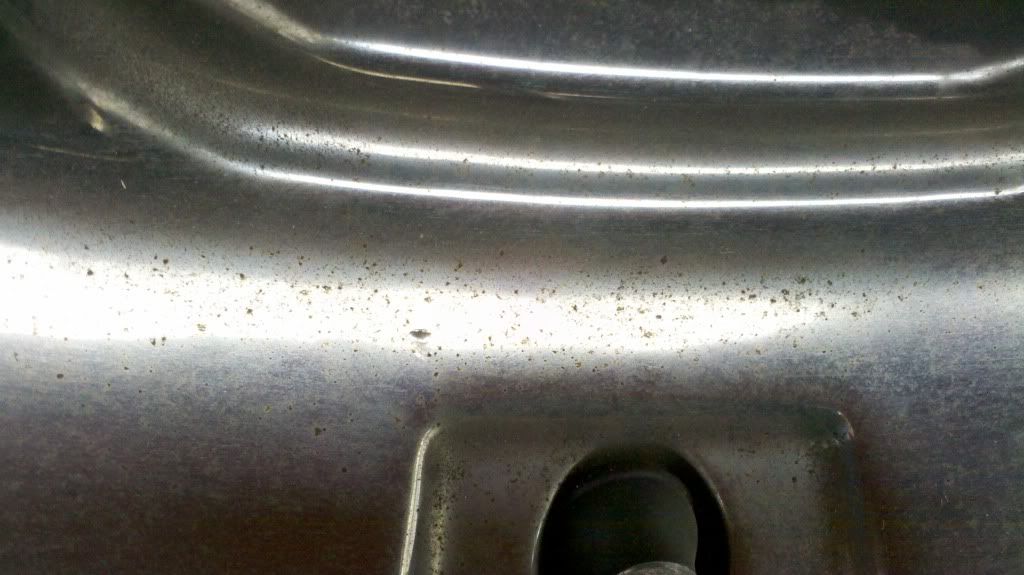 11-30-11--
Been round and round with Pro Comp. They WILL NOT honor the warranty. I understand that I can not find the original reciept but have pictures and data showing when I got them, plus the big kicker of the the finish being under three years old so they have to be in warranty. They have horrible communication. Had to request several times for a manager to even get someone that would respond in a timely manner. I bought these at Carlisle from a guy at the end of the grandstands for cash since it was the show and his last set of these. Not even sure I got a reciept, but thought of one more place to check.
How their warranty works will still cost me money for their shoddy product.
"The way the warranty will work is, you will buy a new set, then return the old set for the credit. The credit is for the price you pay with me today. the only thing you will be out is shipping the wheels to me. I will cover the shipping to you. I no longer offer the wheels you have in the same finish so I will warranty all 4 wheels. If you can find your receipt."
So I am really out the ability to have the cost of the new wheels for a period of time. I am out the shipping of 4 wheels to them. I am out the cost of dismounting the tires on them. I am out the cost of mounting tires on the new rims. I am out ability to use my truck while tires are dismounted and remounted. I am out the time it takes for me to have someplace dismount and remount the tires, plus the fuel to get there to have it done.
At this junction I can say that no one should support this company. I love my tires, but having horrid customer service, a BS warranty, and crappy wheels removes the ability to support pro comp.
December, 2011
After posting this, I was contacted by a Pro Comp Rep that worked to alleviate this situation. He sorted through the bs and got me taken care of. Pro Comp is reported trying to make things better and easier for consumers with warranty claims. They also have done away with the previous finish of wheel I had and have new hopefully better finishes available.

While it was a rough journey to get the warranty issues dealt with I can say it has worked out and Pro Comp does make a strong wheel. Hopefully with the abandonment of the finish I had issues with, they will have a strong and reliable product for people to purchase in the future.

I do not want to retract my previous statements, but want to add that these wheels functionally have never failed me in some really tough spots. I never worried about them leaving me stranded.

Pro Comp seems to have realized their previous lack of Customer Service and is working to fix the issues. I can't help but give them another chance after admitting the shortcomings and making good. I love my tires and hopefully the new wheels will have me smiling as well.