Seems like every year our Summer is shorter and shorter. This year was shorter than most since we've had one snowfall already and that was last month!
A year ago I acquired a CHP fleet '05 Trail Blazer with some interesting options - like: bulletproof doors and rear quarter panels. I found out about this when I had to replace the door lock cylinder. The rear windows are all limo-deep tint and the vehicle is unearthly quiet inside when I drive it.
I installed a Prerunner front bumper assy and took the plastic bumper off and stored it away ... just in case I might need it some day.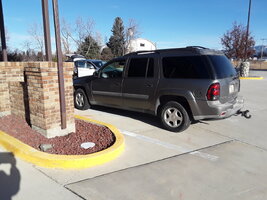 I also put Rancho struts with heavier coil springs on the front and the Rancho 2" lift kit w/shocks on the rear. I didn't want to install a lift kit on the front since I want to stay with the 4WD option and not just run 2WD. The vehicle sits higher than normal in front, but still has the same GM engineered-in shock travel to keep the CVs from getting jammed up in a hard turn or if/when the front wheel(s) come off the ground.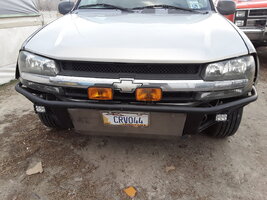 This is before the Rancho front struts were installed.
As if it's normal, the power steering pump is noisy - whines when the engine is running - all the time. I can live with it since I chased the same problem with a Cadillac ST P/S pump and after one rebuilt pump - two new pumps - and one used pump --- I could not get rid of the pump noise on it either. The cadillac and the TB use the same basic pump and let there be a pox on GM for changing over to a roller-style pump from the old vane-styles that were quiet.
Last week I installed new upper control arms since an alignment shop told me (incorrectly) that one of the bushings was wasted. Good 'nuff, since it was relatively easy and that should keep the front end going for a while. The lower balls and tie rod ends are all good - so there's that anyway! The front end shop missed that it was just a loose bolt in the control arm. I won't be going back there again.
Montana's a great place to retire - and I waited until I was retired from all my work and careers since I didn't want to impact the very stilted labor market here. If you think of coming to Montana to work - forget it. There is no work in Montana - I mean: the IS but it's a hard market to break into. Plus the pay sucks - $15/hour is considered good wages. I know of an IT with a locker full of Microsoft Creds who is working for $15/hour and has been getting that same pay for six years now.
I came here to fish and maybe run a hobby farm, a few chickens, own some acreage and breathe fresh air. The fresh air is most important to me since I have Stage II COPD and a lot of bone/spinal problems ... plus I'm going on 75 years old now. Things don't really get better as you age - no matter what the TV commercials say.
You just THINK you're doing OK then the realization hits that you can't do the things you wanted to do and you start tossing things out of your Bucket List. I don't really regret it, but I would have liked to do a couple of those things that I decided I either won't have the time for or that I won't be strong enough to accomplish. Ah well.
What I know for sure is that I'm not moving again. I'm here and I actually only miss the ocean - but the trout fishing's good and the air's great.
.