This is Why Airline Pilots Deserve the
BIG
BUCKS!
The attached video is NOT an excerpt from any Flight Simulator. The actual terrain involved for the Pilot(s) to negotiate this Gulfstream V Jet Plane around are the pristine Colorado Rockies at Aspen where the only practical way to get into and out of the city for Skiing Tourism is to deal with dropping down onto or lifting off from the ground of the tiny Airport Runway over the encroaching mountain ranges obstructing the way.
This is the variant used by the United States Coast Guard: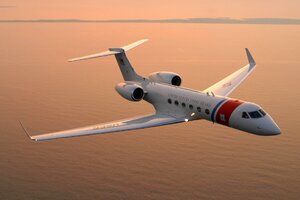 The beauty of the scenery and the subsequent problems of finding a proper place to park the aircraft safely can also be as distracting and harrowing as the flight entrance and egress are to and from this tiny Sky High Airport. Even though the possibility of problems due to rapid changes in Weather and Aircraft Mechanical Malfunction are small… The Pilots and Passengers will silently maintain an understanding that the possibility of death and injury are always their constant companions whenever they all board any Airplanes.
A lot of things must work properly (hopefully
perfectly
) and there is much to do for the Pilots, Engineers, Navigators and Mechanics-Ground Crews when attempting to ready such planes for take offs and landings involving everything that flies; regardless of whether the planes are Piper Cubs, C-5A Transports…
or a plain pair of Barn Doors.
If the automotive industry possessed the same record for the mechanical genius, the materials durability and the resulting excellent safety records, you'd never need more than one Car or SUV for your entire life and working on them for maintenance ...would be a dream:
Contrast THAT scene with the fictional work of what all Airline Traffic Controllers do when trying very hard to be the "The Traffic Cops of the Skies and the Earth" working hand-in-glove with these Pilots to get their Passengers and Planes safely to and from one place to another…
by the Millions
:
Last edited: