For anyone looking for a Dedicated Laptop to serve as "The Base" for Tech 2 vs. TIS2000-SPS Software and Vehicle PCM PASSTHRU Operations... This Box has both the Physical DB-9 Serial and DB 25 Parallel Ports. The Hard Drive has Windows 2000 Professional installed for its Operating System and this OS numbers among the BEST that can handle the normal Windows 32 Bit Applications and Drivers as well as the All Important and very necessary
16 Bit Drivers needed to Install the BOSCH OEM TIS2000 Software properly
.
The unit also has (2) USB Ports for a Mouse and an "HWK" Dongle Key if one is required in the absence of 'The Dongle Crack". Having this Legacy Machine simplifies setting up a simple, dedicated box to use with your "GYMKO" Tech 2 for "Front Seat Service" Tech 2 applications and the price range is quite reasonable.
Please remember that 20 Years ago... Windows combined the Best of the then "New" Windows 95 GUI Interface had to offer along with the Solid Performance of Windows NT that was THE staple of the Industry for as long as 32 Bit Architecture Computers were all the rage in the Desktop-Laptop Industry. THIS one is offered for sale at $130.00 + $30.00 S&H on eBay: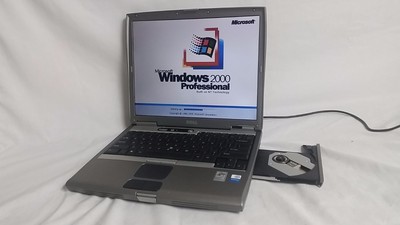 You are buying good looking Dell Latitude D600 laptop that is in good working condition. Model: PP015. Clean laptop with little sign of wear. All system drivers have been installed. Sound, video, LAN, USB, chip all of them are ready to use.
Last edited: