Original poster
Lifetime VIP Donor
In the past, I've been able to prove
(in Multiple Original Threads)
that the GM TIS2000 Software
WILL
work on a wide range of Laptop and PC Platforms
AND
with a wide array of the various Windows Operating Systems under Bench-Top Programming Conditions for Updating PCMs and Modules with Updates and Calibrations.
With these prior experiences to rely upon, I've finally decided to
"Pull The Pin"
with some confidence and get an
MDI-2 Clone
presently available from an Amazon Vendor
(ACOUTO) ... while their particular unit is On Sale for $278.14 ...
and determine whether or not I can also get
THIS
Device to retroactively work with my
RCA Cambio II Tablet
using its 32 Bit Version of Windows 10
and the TIS2000 Suite. Hopefully, I'll be able to meet with the same success I've had when using my "GYMKO" Tech 2 while re-programming an Old P-01 PCM out of a Corvette Vehicle to Clone the VIN and Calibration from my 2000 Chevrolet Silverado 1500 5.3L Engine Truck, likewise under similar Bench Top Setting conditions.
These are the Hardware and Software installations I've also used on previous occasions with my various Bench-top Set-Ups with a 2002 + P-10 PCM for the Trailblazers and Envoys (
while using Custom Harnessing of my own design)
and gotten
ALL
of these HW& SW Combos to work using the GM "GYMKO" Tech 2 Clone as the PASS-THRU Device while testing and using the SPS Programming featured via TIS2000 on the 3 CD Software Installation Disk Set:
Dell Precision M65 Windows XP Pro 32 Bit OS
Dell Precision M65 Windows 2000 Pro Sp-1-5 32 Bit OS (Native 16 Bit Drivers)
Dell Precision M4800 Windows 7 Pro 64 Bit OS (VMWare with Windows 95)
Dell Precision M4800 Windows 10 Pro 64 Bit OS (VMWare with Windows 95)
Dell Precision M6800 Windows 10 Pro 64 Bit OS (VMWare with Windows 95)
Dell Precision M6800 Linux Mint Version 20.3 OS (VirtualBox with Windows 95)
RCA Cambio II Windows 10
(Tweaked to be able to Load and Run 16 Bit Drivers)

Now, I am hoping for having some similar success by purchasing THIS MDI-2 Clone Kit. I am expecting this Boxed Kit to arrive here by the End of August:
https://www.amazon.com/dp/B0B4JGLCPX/?tag=gmtnation-20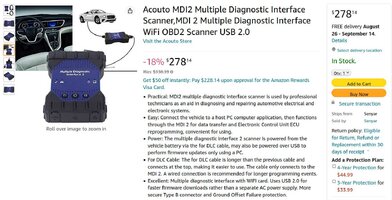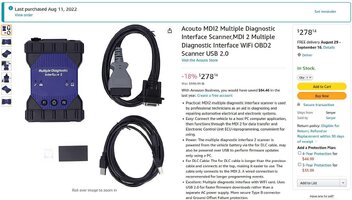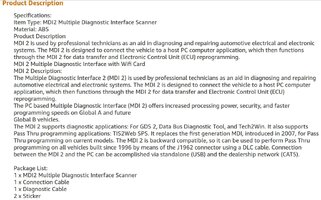 Apparently… BOSCH does
NOT
provide for any MDI-2 Clone Software Downloads and requires people to visit ACDelco to get access to the requisite initial Registration of this "Non Bosch" MDI-2 Hardware and be able to Download and Install the Software and Firmware Updates:
https://www.boschdiagnostics.com/software-updates/software-gm-mdi-and-mdi-2
Nonetheless… It was still very interesting to discover that ACDelco actually offers their
own
"Official Clone" of the Bosch OEM GM MDI-2 Unit, as described in
THIS
2 page PDF Brochure:
https://www.acdelco.com/content/dam...c-Interface-Tool-01.07.22-USMCDWNCN413T32.pdf
Apparently,
there CAN be some pitfalls
with the various MDI-2 Clones having encountered Software and Hardware Registration issues that are somewhat covered
(AD-HOC)
below in these three videos. I will have to proceed with some
CAUTION
so as to NOT make any Mistakes while Registering and Updating this Clone MDI-2 Device while using the Official GM-Bosch Software or the Bosch Site(s) … and especially if and when it comes time to Set Up an ACDelco TDS Account and Purchase the yearly support for any GM Vehicles in need of PCM Calibrations via SPS or required Security Updates:
More to Come on This... :>)
Last edited: