(some of you may know this already - since I had just found out recently, I figured the info may be useful to others)
If you've ever shopped for items on Amazon, and wondered "how/why did the price change on that (so much) between <yesterday, last week, earlier today> and now" - it's because Amazon and their partner vendors are *always* changing prices. The trick, then, is to know when to 'strike', when a price drop occurs on an item you've been looking for.
I found a site called 'Keepa' (
www.keepa.com
) - it will track items for you, either in a general context, by category, by importing your wish / shopping lists, or by one specific item (and it will do all of these simultaneously).
As an example, I have one headlamp housing on the Envoy that has some clouding, and I haven't been able to 'restore' it to my satisfaction.
On a hunch, I searched for a vendor offering a headlamp. Found one who sells pairs - and over the last two days, the pricing has dropped by nearly $20 USD.
Here's a partial screencap showing the price trending (sorry for the x-axis being cut off at the bottom - it represents 'time' (in this case, over 3 months)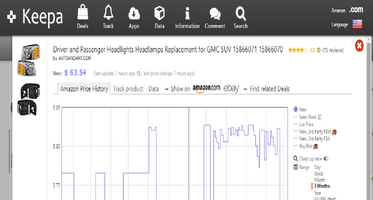 Now...will I purchase these today? Not sure....probably 'not' (I might be able to get them cheaper at a pick-n-pull, for example, and I don't need them 'today') But the trend shows these to be the lowest pricing in a long time, as of today.
I intend to use this tool for a bit to see if it helps - I hate paying more than I have to for an item, unless I have dire need for it.
Finally, the tool has several ways of notifying you about a change - via e-mail, FB, Twitter, RSS messaging, others. There's also versions for Android / Apple.
Last edited: