For anyone with a Riding Lawn Mower that requires a Ramp to get up to a decent elevation above "Ground Zero", be aware that recently, I was in the process of backing my Ryobi Electric Riding Lawn Mower down & out of my 10' X 14' Metal Shed on my 38" Wide X 48" Long Aluminum
"Slip Proof"
Ramp. This device solidly connects right to the threshold opening of my elevated Tool Shed.
But somehow, I 'Effed' Up REAL BAD ...and Managed to 'Get Sideways' on my Ryobi Riding Electric Lawn Mower. As I ambled it downwards at a very slow pace, the Unit Damned Near Turned Over Right On Top Of Me!!!

I was NOT being the LEAST Bit Careless at all when this happened.
But what must have occurred is that my
Rear Tire Inflation was SO LOW
that once the Tire Tread got a Decent Bite over the top of the Left Vertical Side Mini-Guard Rail
... it managed to almost completely climb over the Guard Rail and head "Right out into Nothing But AIR" This all happened Way TOO Fast!.... and I was like, "Uh Oh...! Whoa Nelly!"
I'll tell you... THAT feeling Scared the Ripe Living SH*T... RTF out of ME!
It has only taken this One Instance to make me want to take drastic action right away. So I searched around over on Amazon and Discovered there was a
Large, Solid Aluminum Ramp
sporting a nice
'Knife-Blade Thin' Leading On Ramp Edge
and having a Strong, Substantial
Front Entrance Off Ramp "Grippy" Ledge.

Man... *Whew* I shudder to think what I would have done if the Ryobi had managed to tip completely over on top of me and pinned me under there . That scene from the Movie "Dances With Wolves" comes to mind where the Conestoga Wagon Mule Driver says, "Why Don't He Write?" ... after spying a Bleached Human Skeleton stretched "Out on the Lone Prairie" near a 'Tipped Over Carriage' ...with a Paiute Indian Arrow sticking out through its Rib Cage.
:>(
I mention this because my Wife
NEVER
goes out into the Back Yard anymore and it might have taken some time for anyone to find whatever would be left of me back there. :>(
So, Hopefully... Since this New Ramp is 48" WIDE and 60" LONG, it will be good if it provides me with a
MUCH
greater amount of Free Ramp Motion that hopefully, won't ever jeopardize my life again, should I
NOT
be perfectly aligned while maneuvering within the spacing where Two Side Rails on the Existing Ramp are now located,
This New Ramp has NO Such Side Rails at all.
The other feature THIS New Ramp DOES have is that it is Hinged and Tri-Folds together into a much More Portable Shape that can be easily unfolded, unfurled and secured. I'm very happy that it can support up to 2,000 Pounds,
as the Ramp Itself Weighs Under 50 Pounds.
Whenever Me and The Ryobi are Cutting Grass... We also Cut a Pretty Trim Figure, mind you...
But together We also Tip The Scales at around 1,000 Lbs.
So I
NEVER
want to have to worry about
"Taking A Header In The Grass"
while I'm sitting on top of
THAT
Damned Thing and having it landing on me
...ever again.
So like I said... THIS incident has prompted me towards obtaining this
VERY NICE, All ALUMINUM "BIG BOY" RAMP: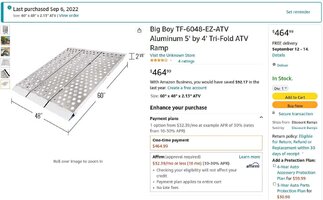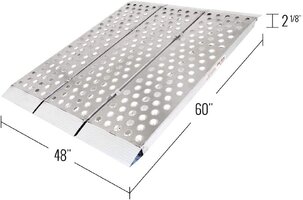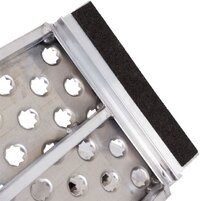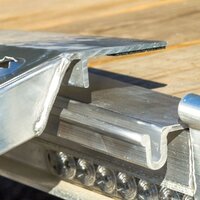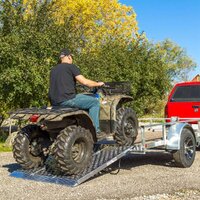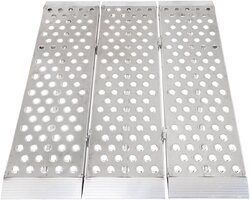 Last edited: