For the longest time now… I've wanted to own a Gibson Les Paul Guitar. But I could never afford getting one as ones on the Premier "Top of The Line" ...especially Vintage Models… these Guitars can range as high as $10,000.00... with an average of somewhere between $3,500 to $5,000.00 for one of these Babies. Fortunately for me… Gibson bought out the "Epiphone" Guitar Manufacturing Company back in the 1950s and created identical lines of their Prime Guitars for a lot less money, as these Axes were being hand-made by Chinese and Korean Labor for a lot less money than here in the United States and therefore ...the good ones are available for around $1,800 on the High End ...down to around $800.00 on average for others in the same class. In some cases… like anything else… you can "Find Gems among the Rock Piles" if you're patient and look for those that are both available and worthy over very carefully. This WIKI on the History of the Gibson Les Paul Guitar and Epiphone provides the right facts and information for anyone interested in having one:
https://en.wikipedia.org/wiki/Gibson_Les_Paul#Studio_(1983–present
)
Recently… after watching Joe Walsh performing a "Set Up" on a Gibson Les Paul Alpine White Studio Deluxe that is really a Plain Vanilla Finish (...and I DO mean LITERALLY...VANILLA) in color that I actually thought was quite cool as most Studio Quality Guitars have all of the Electronics and HQ Wood Materials that match the Quality of the flashier machines… but without all of the "Bling, Bells and Whistles" and appointments of the 'Stage Bling' that Studio Musicians really do not need to be able to play with the same quality action and sound made possible when matched with their knowledge and Skill of How To Play Guitar:
I decided to check out Youtube and investigate if anyone else was paying any attention to what I am coining as being "The Arctic Studio Axe" since it definitely bears resemblance to the Thick Coat Volor of a Polar Bear Fur from top to bottom… save for the Mother of Pearl Trapezoid Inlays on a Rosewood Fret Board. Lo and Behold… there was a Canadian Guitar Tune-Mechanic that had a similar one on his repair stand having to tune it and fix two damaged Strap Pegs/Locks and also to make some subtle adjustments to "The Nut" and String Heights by using his tools and Height Gauges and somewhat following Gibson's Set Up Specs. But THIS one bore the name
"Epiphone" Les Paul Studio De Luxe"
… and I thought,
" Hmmm… Now I wonder if I can get my hands on one like THAT…?"
So after trying Amazon and eBay… I could see that most of the Epiphone Les Paul Standards and other Certified Guitars of Quality were hitting an Average Price of around $1,500.00. But I persisted and found the identical one I was looking for after viewing the Guitar featured in below Youtube Video… and later available from someone else in MUCH better condition on eBay for only
$289.00
. At first, I was a bit skeptical of this Guitar … that is until I did my due diligence and confirmed that there were no hidden damage flaws to come back and bite me. I decided to pull the pin and get the Guitar since it was drawing WAY too much attention "Being WATCHED" ...and once I make up my mind … I never sit on "MAYBE". I pulled the trigger after that and have not been disappointed for making this decision. Here are the Images I just took of this Guitar:
https://www.flickr.com/photos/126111508@N07/albums/72157672794176737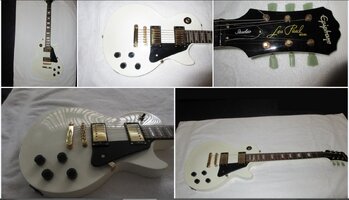 The Guitar was sent along with FREE S&H to my house in less than Three Days and during the follow on un-boxing, I could tell that it was thoughtfully and professionally packaged in a combination of Saran Wrap and Bubble Peanuts ...and further packed snugly inside of a Guitar Case mummified in even more Saran Wrap… which I did not purchase as part of the deal... but which the Seller decided to use to ensure that this Fine Instrument would arrive safely. For some reason … in my experience... Guitars never photograph well and so I was delighted to find that it looked even better than the eBay Images after I unpacked its mummification and could hold it in my hands. A quick check of the Guitar from Top to Bottom revealed nothing awry and I laid it out for some Photos to add to my "Flickr-Bucket" for all to see:
After giving it a basic Tune...I plugged it up to my
Marshall MG30FX
…. And
O...M….G….!
This Guitar more than meets my expectations for paying only a fraction of the average going rate for such a nice playing Axe (very filthy possibilities are here with all of the Marshall's FX's built in, too!), So… if you are musically inclined and have a desire to play a Better Than Average Electric Guitar…. Keep your eyes peeled for one of these
Epiphone Les Pau
l items… as they are more common in the "Standard" Flavor... with much more colorful Maple Tops…. But they also will cost more as well. I like mine…. Even if it is "Just Plain Vanilla"….
It is Just as Cool and Smooth as Vanilla Ice Cream.
:>)
This one Video is worth more to watch as the Canadian VOP (Video Original Poster) is so seriously entertaining and funny AND.... Well ...because of how much information this Specialist reveals that competent Tuners would want to know...AND he was working on the Same Guitar that I wanted to Buy:
This is and even Plainer "Plain White Wrapper" version of the Guitar (
NOT
like the Studio De Luxe Version I got ...this one is without any Gold Appointments...)
...and HERE is the Very One that I just got getting put through its paces during practice play demonstration and showing what it can really do:
Yup... Treat yourself to the Stuff You Want NOW, Guys ... Because as BB King once said in The Blues Brothers:
"Hey Everybody... Let's have some Fun...
Let's Go Out Party... '
Cause when you're DEAD You're DONE...
Let The Good Times Roll...
Yeah... Let The Good Times Roll...
I Don't Care if You're Young or Old...
Get Together ...Let The Good Times Roll"
May the Good Lord ... Rest his Sweet Soul...
RIP BB King
Last edited: