What is the bar that goes from the right side of the rear axle up to the left side of the frame? I was changing the fuel filler neck today and it snapped from rot. Sadly my time is numbered with this truck, unless I find someone who is willing to help me with a frame swap locally. The body/interior is clean with 110K. Under it is a different story.
Only thing I found online is part 7 but its reversed than mine and it says its on the SS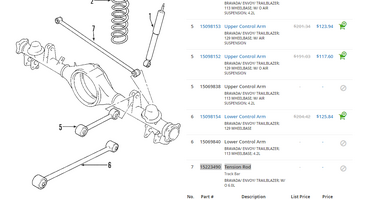 On a related note....
Did any 360's have a screw on gas cap? The filler I got from Rock takes one and not the 1/4 turn with 2 ears style, waiting to hear what they say.