Original poster
Supporting Donor
Member
As some of you probably saw, I bought a 2006 9-7x
with 160k miles on it. It has a dead cylinder #1.
Here she is, sitting in my driveway (no more truck pics at the moment)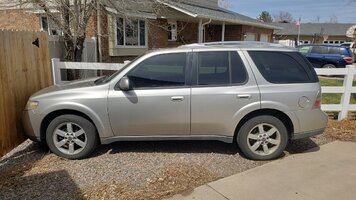 So I tore into her pretty good today. New plugs, dug around on the interior, and checked operation of pretty much everything
Cylinder 1 is a stuck AFM/DOD lifter, verified after doing the tune up, and pulling the valve cover, and starting the engine. To my surprise, the oil pressure seems really good on cylinder #5 pushrod, it squirted oil thru the pushrod, and put a string of oil across the hood on my Envoy! She really needed a tune up, will post pics from my phone in the next post.. It had AC-Delco Platinum 41-962 in it. I replaced those with Iridium 41-162. AC blow nice and cold. It may need some ball joints. Worry about that when I get the engine running right.
Interior is mostly clean. Missing 3 of the 4 floor mats. Has the owners manual. Has the cargo cover in the trunk. Drivers seat forward/backward operation is non-op, and the drivers lumbar kinda works, but is mostly non-op (it just clicks, and then bangs).
Drivers side headlight ballast is DOA. I took the bulb out, and tried it on the passenger side, and it worked great. I guess it could be wiring, or a fuse. I just have not gotten that far yet. Someone replaced one of the headlights at some point. One side was a Phillips, the other side was a OSRM.
The passenger side fender I think I can beat back to true. Gonna worry about that later.
I turned on the Hazard Lights/4ways to check lights, and I heard a clicking above the spare tire? is this normal?
I am sure I need to change the smurf blood (TC Fluid), and the diffs. One project at a time!
Edit: Running parts list and cost
2169 for the truck
137 Spark Plug Wires, Head Gasket, Exhaust Gasket, Head Bolts, Exhaust Manifold Bolts (AM)
71 Lifter & Tray (OR)
5 Pushrods (AZ)
76 Spark Plugs (AAP)
105 Various Junk Yard Parts (headlights, rear rotors, seat, radio, etc) (PnP)
166 for PCM/TCM reprogram -
@limequat
49 for VLOM parts (
www.CrazedPerformanceRepair.com
)
164 Brakes (pads front and rear, front rotors) (AM)
50 Oil Change (AAP)
25 Emissions (Gov)
43 Plates and Tags (Gov)
-32 returned spark plug wires
(Legend - AM=Amazon, AZ=AutoZone, AAP=AdvanceAutoParts, OR=Oriellys, PnP=Pick-n-Pull, Gov=Government)
Still Needed
Brake Vacuum Pressure Sensor Bung/Gasket
Wipers
Running total
3028
Special Tool Purchases
15 Fuel Line Disconnect
11 Wobble socket adapters
Tools Borrowed
3/8 Torque/Angle Wrench
1/2 Torque/Angle Wrench
Last edited: