so my grandmother bought a 2005 Buick Rainier AWD V8 in December of 2004. i was only 2 at the time but i fell in love with it the minute i saw it. i asked her in December of 2006 if i could drive it for my first car. she said yes.
However in April of 2015 she had to sell it because of ms and the rainier had to much power for her. well i am going to get my license very soon so i wondered if i could still get the car. i did some research and found the
Honda
place she traded it in to sold the car to the Boston Massachusetts auto auction, so i found out the Rainier went up to Rockland Maine. after some more research i found the owners name and i wrote them a letter. the lady said that she had just traded the car in and she would contact the dealership she sold it to. my dad and i drove up to Maine and picked up the car and i will now drive it for my first car.
When It sold at auction 4/08/2015 (Sad Day of my life)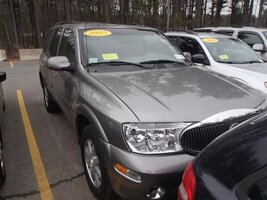 When i found out i was going to get it (June 27 2017)

Now