Original poster
Lifetime VIP Donor
Supporting Donor
Member
Recently, I realized that locally, all the Schools would be getting back in session and likewise, all over the country in ways that should become "More Normal" than what we've all had to endure during the recent Covid-19 Pandemic. The
BIG
Difference now though, is that with the advent of OpenAI Chat-GPT... A whole New World of opportunities and pitfalls will come to the center of the field in ways that only seven months ago, nobody could have imagined happening in their lifetimes. Education (and precisely WHAT needs to be learned to become a productive member of Society...)
is UP For Grabs.
Take a look at the concerns being brought up in this Short Video that recently took place at MIT in which one of their History Professors was lecturing..
.NOT to Students.
... but to other MIT Professors in the Physical Sciences Auditorium about the implications of their understanding, misunderstanding, acceptance or rejection for allowing their student bodies to use Chat-GPT during their curriculum.
It follows on that If you have school age children anywhere from Middle School through to Graduate School... From henceforth, some flavor of Chat-GPT will become central in whatever happens with their education and it will change and adapt through a very rapid transition between what is accepted and believed in as being relevant and effective in assisting in all aspects of Human Learning.
So I hearken back to my previous suggestion that getting your hands on THIS Off Line Version of an Open Source AI set up and having your own Home Server with this application ...
along with having a few Improved different Generative *.BIN data sets that have been washed of bias and confusion
...will be there for you when your Kid(s) ask,
"Say Dad... Am I allowed to get some help with my Math and Writing Home Work using our Chat-GPT Server... I've got a Test on Friday... and I'm really LOST?" Time to drag out that Dedicated Lap-Top Oracle and let it get to work...
For example...
Say my Internet system has gone DOWN...
and my son has a blended Homework Assignment involving Creative Writing, Mathematics, World History and Geometry and he also has an Algebra I Test coming up, but is having trouble figuring out how The Pythagorean Theorum (Formula) relates to the Physical Geometry Properties of what Right Triangles are supposed to look like.
So... We let him ask "Vicuna" for a little Help: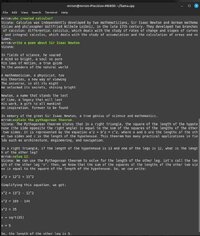 ...and if there is ANY doubt about why I have designated "Vicuna" as a SHE... Check Out
THIS
Video...about
THIS
Beauty... So Soft, So Smart
...and So BRAINY, Too... :>)
Last edited: