My TrailBlazer hat is starting to show its age and it's the nicest hat I have so I want another one. I've given up ever finding it embroidered with the TrailBlazer text, but I just want the same decent quality type of hat (preferably with a bowtie still).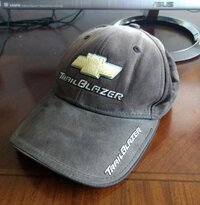 My hat was from Raceway Distributors, which has since gone out of business, and is now known as Speedway Blues (which only seems to sell FCA apparel, I guess that's why they're sad at the speedway).
Anyway, my hat is black microsuede(?) with a white face on the lip of the bill, it has a nice heavy feel to it unlike most cheap automotive-themed hats.
I'm continuously looking for this exact type of hat, but I'll take recommendations for other nice GM hats.
General GM hat thread?