There are GMTNation decals available, as of right now I have the only stock. It is my understanding that decals are being sent to 2 other people on the forum and they are welcomed to ad their info to this thread and get these out.
Here's how this is going to go until further notice.
Paying Silver/Gold/Premium members only as we have a very limited supply, as this moves forward more decals may become available at which point they may start being sold to anyone to support the site.
The decals available are approx 14" x 2" and they say GMTNATION.COM
There are a few black and mostly white
There is a very small quantity of 6-7" decals in white.
And I literally have 1 white LOGO style decal and 1 black.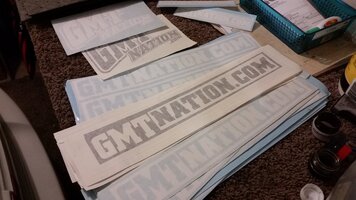 PM me with your preference of decal and I will let you know what I have left at that time.
At this time Gold Members get free decal and shipping
Everyone else please contribute $2.50 shipping to paypal
blbarlow2007@hotmail.com
send as a gift only to reduce fees.
Make sure your address is correct, or PM me the correct address.
I am not making any money on this, I'm just trying to help get these out.
Mods: if something needs to be changed in this post or something needs to be done differently please feel free to make the necessary changes and pm me with details.
Thanks to everyone who is/has contributed, and thanks for supporting GMTNation.com