(Passing this on as it looks like a nice deal -- and so many people responded to the original one that they had to order more from the mfgr)
As always... I don't own / work for this company; just passing on for those interested
6416180 Gedore 142 10 JC Universal pliers 10, 15 settings - high quality German engineering at the lowest price. Free same day shipping available.
www.kctool.com
The above link should work -- I shortened it down on my own browser to test (the original one referenced me via cookies, etc., etc.)
If you're unfamiliar with German / Austrian-made tools... these aren't HF specials -- in quality or price.
These are very similar to Knipex Cobras -- slip-joint pliers with a locking button for one-handed adjustments. 15 adjustment slots.
Listed as "regular $52.70" (I don't know whether that's their regular price, or MSRP -- but this is the cheapest price I've ever seen on them.)
Because they're substituting a smooth red grip in place of the normal blue textured, they're also offering 15% off any other Gedore tools until 6/20, with coupon code 'GEDORE15' (the webpage above won't list this). And you can't use that code on these pliers, only on other Gedore tools.
Also... shipping may be high -- the
cheapest
option for me (KS > IL) was $13 and change via USPS Priority. So these are really $33 pliers (for me). Orders > $75 get free shipping, btw.
I like slip joint pliers, but not when they slip when I didn't want them to. So I'm going to order these for myself.
I've ordered from this company before, when I needed 1/2" drive male couplers.
Here's a picture of them, for reference. I'll post back on how I like them, once they arrive (bkordered till 6/11)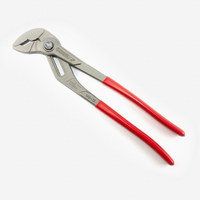 Last edited: