It is a bit of a shock to me that I finally have to choose between the two vehicle projects that have been on my mind ( ...or more accurately "In My Head") for a very long time now. But since my back injury-surgery-limitations that occurred in 2015 … the life changes that have followed on have made me have to adjust to what and how much I can do with myself. So recently I have been pondering this problem since I wanted to marshal my time and energy and focus on only one of them. To that end… I chose to keep up with the 2002 Trailblazer LS (
The $85,000.00 Engine Rebuild and '04 Engine Swap combined
) over sustaining any more work on my 1993 Chevrolet Camaro Z-28.
It was only within the last few days that I made that snap decision to act on this idea after an Elderly Hispanic Gentleman knocked on my door and asked if I wanted to sell the "Z". I advised him that while I really wanted to keep the car in the fervent hope that eventually… I would be able to apply all of the New Parts and Performance Improvements I had accumulated over the years and attempt to resurrect the Camaro.
But in reality, I also wanted to focus on finishing the outstanding work that is necessary to get the TB back on the road. He agreed to a very fair price and we sorted out the Sale, Title Transfer and Tow-Away issues over the few days that followed. I know that this decision should have bothered me much more than it did… but to some extent… the only sensation I felt at the time ...was one of relief.
Next of course came the fact that I told him I would also be throwing in everything else associated with "The 'Z' Project" as well...but that I would need at least a week to go through the various rooms and storage places that holds all of this "Tonne of Treasure" and load it all into the back of my 2000 Chevrolet Silverado and drive over to his place and with the help of his own sons… he could thus safely unload everything in one go.
But this arrangement placed me in the unenviable position of having to get a
Full Size, Water Proof Truck Cover
that I will need to use in the short term to cover the entire vehicle from Bumper to Bumper. It will take time to locate and gradually populate the 8' Truck Bed with the Full Set of Black Leather Bucket Seats, a New Gas Tank and Fuel Pump, two sets of Headers, as well as the Stand Mounted 350 CID Bare Block and all of the ancillary New and Original Performance Internal and External Engine Parts , Fasteners and Gasket Sets-Components for that Second 1995 LT-1 Motor.
My problem will be compounded by the fact that local Thunder Storms often arrive as "Cloud-Busters" that have been irregularly happening almost every other day in this Florida West Coast area and make loading up and and then protecting all of this expensive gear quite difficult. So my first port of call was to find out
"How to Accurately Measure a Truck Bed"
for a more permanent solution and THIS short video covers the topic quite nicely:
***(This information is definitely worth Downloading and Storing in your Mechanic's Video Repair Library)***
https://www.autoanything.com/tonneau-covers/how-to-measure-your-truck-bed-for-a-tonneau-cover
Now… while having an attractive folding Tonneau Cover would be the very thing… the present time constraints involved forced me to order THIS thing as an alternative, temporary solution that will serve the purposes of keeping the contents of the 8+ Foot Long Truck Bed dry...and perhaps help me over the few days while I load everything up… and most importantly, obscure anyone from taking too much notice while sort of keeping my activities "Out of Sight… Out of Mind..." so to speak. Ergo. And finally... because I could order and receive this thing at my home in just one day… very early this morning... I pulled the trigger to buy THIS thing as practical temporary stand-in for a more durable and long term solution:
https://www.amazon.com/dp/B005WXNM7I/?tag=gmtnation-20
=Chevrolet%7C47&Model=Silverado%201500%7C491&Year=2000%7C2000&ie=UTF8&n=15684181&newVehicle=1&s=automotive&vehicleId=1&vehicleType=automotive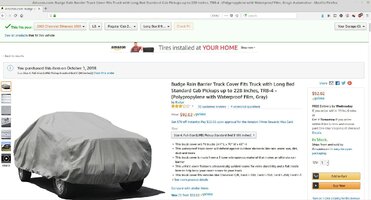 Last edited: