So here is what I have to offer. I have the complete set of front and rear calipers and brackets that came from my brother-in-law's SS. He recently had a set powder coated by my brother and installed by me with a full refresh of all new parts.
Color samples: theres way more but your best bet would be to go on prismaticpowders.com and choose a single stage or 2 stage color and finish. You can also follow my brothers work on Instagram eazypowdercoating and go through some of the colors he has already done and have in stock.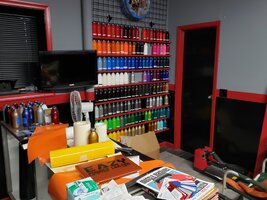 Before
After: this is the set that is currently on the Voy.
I plan to have the spare set acid washed sandblasted and powder coated to a selection of colors of your choice. The set will then get all new seals and hardware.
As pictures here: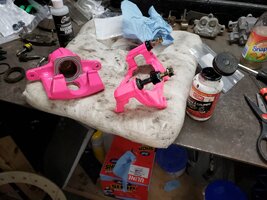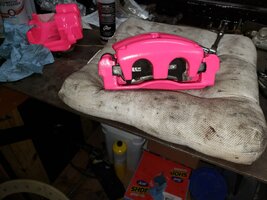 I also have a set of brake pads from power stop which are carbon ceramic that will be included. If you choose to get your own pads the price will be reduced.
Keep in mind that with the front calipers and brackets you will need the lwb or SS rotors which are bigger then stock swb 360's. Honestly if you doing this you should opt for picking up a full set of new rotors.
Also if your truck is model year 06-09 you can could replace the flexible lines with stainless steel braided lines to get rid of the squashy brake feel from the pedal. I recommend clarksville fastener for these lines. I have the stop tech on my truck but did not like them as much as the clarksville set I installed on my brother-in-law's TBSS.
Asking price: $400 + the price of shipping (these thing are pretty heavy)
I'll add more pic's shortly to describe in further detail the process and what ever info you guys might think I need to add.
Last edited: