As you may or may not have noticed, PhotoBucket has changed their terms of service and now charging for the privilege of hosting images, including any past images already posted. So, if you are using PB to host your images that you post or use in your signature, this is what we're greeted with when viewing: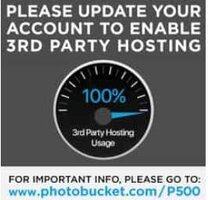 If in your signature, please either delete it or upload to the site. If possible, if you have some pictures in posts, especially articles and write-ups, please update them. It is recommended that you upload all images directly to the GMTNation using the "Upload a file" feature.
PhotoBucket. The #1 cause of broken picture links on forums.