This is the reason djm now sends people to me if you have a trailblazer and want to lower it. You will hear a tapping on front end and even if you think your ok look where the a arm goes over the spindle you will see a rust mark. That mark means its been hitting which over time can lead to these pics below which has happened MANY times with the unmodified version DJM a arms.
here goes another customer with the regular djm a arms that broke his balljoint last week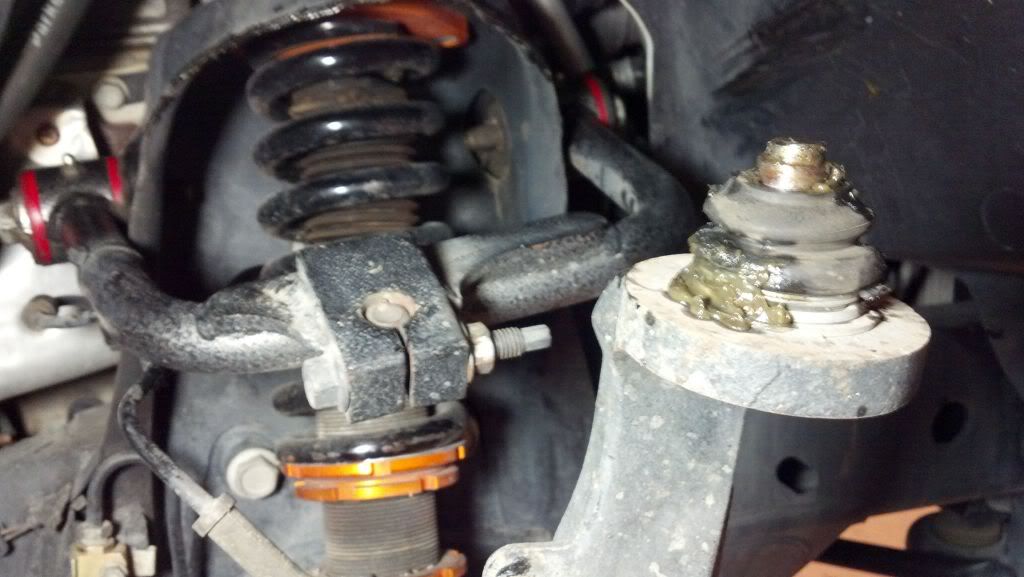 and one happened 2 weeks ago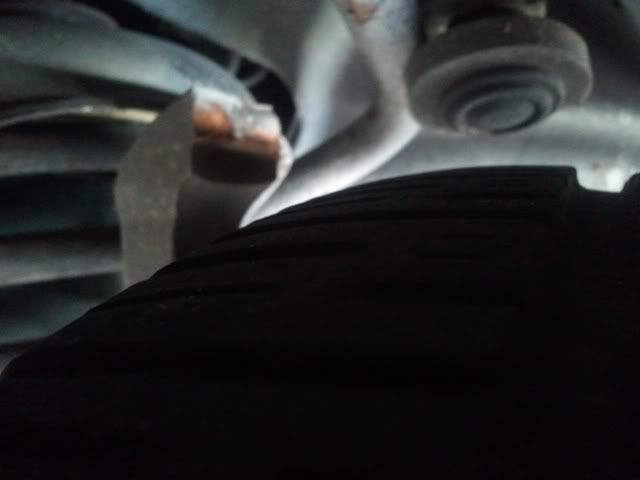 BELOW ARE NORCAL SS'S MODIFIED DJM A ARMS 3 YEARS AND NO ISSUES AT ALL
All issues resolved there are NO PROBLEMS with these a arms once I work my magic lol
$350 shipped for upper a arm (works on awd/4x4 or 2wd trucks)
$400 shipped for 2 inch front complete drop kit (2 inch kit only works on 2wd trucks)
You can buy the arms here
TBSSowners.com Trailblazer Suspension Kits.
Will work on 2wd and awd and 4x4 Traiblazers from 02 up.
This will fix the balljoint/alignment probs when lowering these trucks.
For AWD Trucks to lower you can use KBEE coilovers and or belltech lowering struts/kw coilovers
Here's the difference compared to regular DJM a arms
Arms will be notched to clear the spindle area.
Balljoint hole will be drilled for a 7/16 sized grade 8 bolt and nuts/washers included (this depends on holes drilled from djm if stock bolt will fit in there snug will not need to be drilled for bigger bolts)
All zerk threads will be checked.
Bushing sleeve fully drilled.
Balljoint hole area cleaned for easy fitment.
4 zip ties included to strap brake sensor line on top of a arms.
Over past 6 years not 1 arm has failed.
Bolt in deal nothing to modify check or buy.
tony@tbssowners.com
is my paypal address. When ordering arms will be shipped to me from DJM i will then modify them and ship them out.
Lets go over problems that people talked about that I correct before shipping the arms to customers.
1) Balljoint hole has powdercoating inside of it and makes it harder to install onto balljoint.
Fix- You can see in the pics I fully clean out the hole which makes it a snap to put onto the balljoint
2) A arm moves when tigthened down with stock bolt on balljoint area. (NOTE: EACH ARM IS TESTED IF THE STOCK BOLT MOVES IN THE HOLE IF IT DOES I DO THE LOWER MODIFICATION. IF THE STOCK BOLT IS TIGHT NO MOD IS NECESSARY)
Fix- I drill out the hole for a 7/16 size bolt and supply brand new Grade 8 bolts/nuts. Its a nice and tight fit and yes you do have to tap it thru and torque to 70 lbs (NOTE NOT ALL ARMS WILL NEED THIS BUT ON ONES I FEEL ARE TO LOSE I WILL DO THIS MOD)
3) People stated a arms sleeve are not fully drilled and the zerk threads in arms seem stripped.
Fix- I take apart the bushings and use a tap to fully clean out out the thread and then test every single zerk fitting in all the a arm holes to make sure there is no issue. I also drill all the a arm sleeves
4) A arm taps which caused spindles to crack and a horrible tapping noise.
Fix- I CNC clearance the arms. Also lower edges are radius cut to prevent cracking.
5) A arms packaged and ready to go
Here go two trucks with my modified DJM uppers in and NO ISSUES at all. More stress than 99 percent of the people will put them thru
[video=youtube;stRulSUCKgw]http://www.youtube.com/watch?v=stRulSUCKgw&feature=related[/video]
[video=youtube;I-N4MJUNUO0]http://www.youtube.com/watch?v=I-N4MJUNUO0&feature=related[/video]