I am trying to selling my trailblazer, so here I am selling the headlights because I don't wanna give these away on the vehicle.
I started building these over 2 years ago, they took almost a year to build. These will require modification to the wiring of the vehicle and trimming of the mounting.
The halos are hooked to the low beam wiring, so if you plug these in and turn your head lights on, the halos and marker lights turn on, no headlights. I don't know how the DRLs will affect the halos, but I recommend disabling the DRLs. The high beam switch only activates the 4 projector solenoids, so again no lights. Both the high beam side and low beam side HIDs will require there own source of power and trigger, I used a HID wiring harness and used some toggle switches. I eventually modded my wiring on my suv so I could use my headlight switch to turn on the low beam projector and toggle switches for the halos and high beam projector, but that will require cutting your factory wiring and tapping into it. The halos will also signal with the signal light and hazard. I am not including any bulbs or ballasts, they come exactly like pictured. The passenger side headlight washer pump mount has bin cut off to improve air going into the intake. You can follow some of my build on the "
Members projector retrofits"
Forum on this site.
I don't have any recent night time shots, the passenger side cut offs are not perfect, you only notice it when you pull up to a wall, the drivers side is nice and straight compared to the passenger, they don't blind on-coming cars. The passenger shroud isn't cut perfect either, See last picture.
I don't think $500 Canadian Dollars is unfair for this build.
Shipping will be a extra $30 within Canada, and $50 to the States
Low beam projector is a Morimoto FX-R 3.0
High beam projector is a Morimoto Mini 3.0
Halos are Morimoto XSB SwitchBacks
These are the lights for sale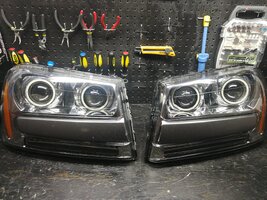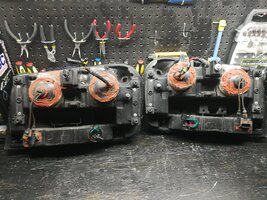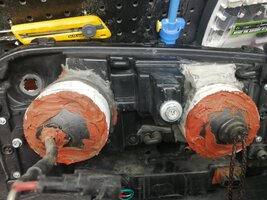 These are how they looked on my SUV.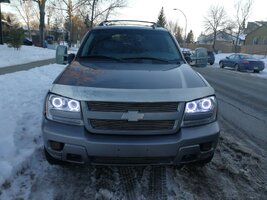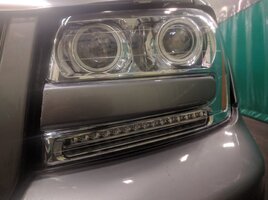 This is how much trimming is needed for the lights to fit in the bracket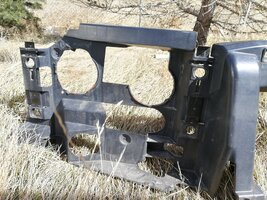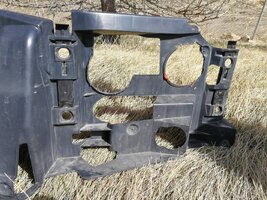 Passenger side Shroud