So as some of you know, I am kinda planning a front/Rear end suspension rebuild and axle replacement for my 2004 Envoy XUV with 191k miles. Which momentarily got put hold for a possible truck purchase...
I had an opportunity pop up to buy a 2006 Envoy Denali SWB V8 with 56k miles, but the seller was basically playing the buyers against each other (me and one other guy) trying to drum up more cash. I got to my top end budget wise, and could go no more.
But while all that was going on, it gave me the opportunity to shop around, hoping to find a 9-7x Aero that I could afford. That didnt happen
.
But I did run across a vehicle of interest..
2008 Saab 9-7x 5.3 Arc with 104k miles, almost the build I want, but close enough that I could easily live with it (it has a GT4, and was wanting GT5). Price is at 4000 plus fly out, and drive back (920 Miles). Flight is less than 100 bucks, and fuel back should be right around 120 bucks (driving straight back)
Im already into my Front End Rebuild for 485 bucks (TBSS front diff and Envoy Tires and rims) but I still have roughly another 1500ish to go in parts alone, Plus my time in doing the work. I can easily get back the 485 bucks I have in the parts I have bought.
As I have said before, I really love my XUV. It is a bullet proof truck, and just keeps going. It has literally NEVER left me stranded (Even when the tranny went out, it still drove to the dealer. When the intake manifold cracked in half, it still drove to the dealer).
But I have to be honest, I really love the reliability of the Envoy, not really the truck that is the XUV. Its to long for what I need, getting in and out of my cabin can be a real pain because of it. The pickup truck back end, I have used maybe a total of 10 times since I have owned the truck (going on 12 years I think). Its handy when I need it, but I also own a trailer that could easily do everything the pickup truck part could have done.
I imagine I could sell the Envoy for 2500 (or more, havent really checked its value), so that would put me into the 9-7x at about 2000 (added about 250 for DOD delete (LimeQuat), and Oil/Diff services).
I wrote out a pros/cons list, and they about equal really, with a slight advantage to the 9-7x, mainly about being lower miles.
Whats your opinion?
If anyone is interested, here is the VIN - 5s3et13m482803552 and RPO sheet...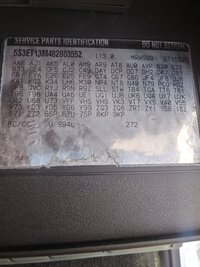 The biggest thing, and really the only thing, i dont like about the Saab is the interior color. I hate that light beige or whatever it is. Its a Texas truck, so the dash has a but of peeling going on.
Last edited: