I'll post a couple of pics of my current rig here, for reference... DW is just shy of 4000lb; CAT scale put me just shy of 5000lb w/ about 3/4 tank of water, batts, propane, etc.
Total length is 1" shy of 25ft. With a WDH,
really
an easy tow--until you get west of the Divide. The farther west I went, the harder the climbs were, with both reduced speed, & stress on the engine (it eats coolant--but ONLY when towing up the mountains, along with some increased oil consumption--on top of its usual oil appetite)
And that's where our story picks up...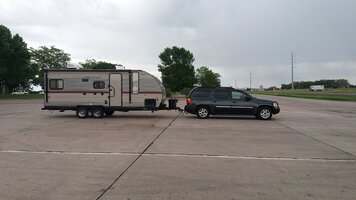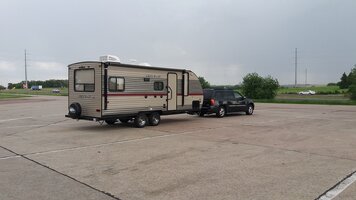 @Mooseman
suggested a LQ4 block, given my description of what climbing the big mountains / grades was like, as well as swapping in the TBSS intake & components that I scored a few months ago, and see how that turned out - because what I really need for the job... is TORQUE (see: 'Black Hills' thread).
I found an early vintage (iron heads, 'long tail' crank) LQ4 on CL a few days ago. The guy was willing to do a complete engine, w/ harness and ECU, for $500.
Figured I'd be out at least $1500 on a rebuild, and probably twice that, given my propensity for upper / top quality parts, along w/ machine shop costs. My research suggests that while I'd be giving up the lighter aluminum heads of the later LQ4s, the iron heads would be more tolerant of high internal temps. So I would probably keep the heads. They're cathedral port (like my LM4), but have larger valves. Might do some work on them (3-angle, maybe a port job). As far as the lower end, I'd swap a later model crank in (stock w/ be fine), along with some good bearings, forged con rods, and dished LQ9 pistons - which would effectively give me an LQ9 that I could safely run on E10 (10.0 : 1 compression). My cam would be a Texas Speed milder 'towing' grind (I saved the specs, but don't have them at hand). And, of course, the TBSS intake, as well as some sort of header.
Plusses: Would make for a helluva build thread, as I progressed with this. And it would be an interesting project for me, having never built a motor on my own. I'll also still have use of the Voy while I work on this.
Minuses: At the speed I work, it might be next spring until I complete the build. And every week I spend building is another week w/ a new trailer & no ability to get out / about (yes, I know...what are my priorities. Thing is, I really would like to get someplace warm when the leaves start dropping, out here. Work faster...or camp & work

Finally, running into any compatibility issues with swapping in a 6.0 into the Voy (physical & electrical / sensor, etc.)
So I figure... at $3000 (est.), maybe I should just look at the truck it came in - a 3/4 ton Silverado / Sierra, and see what I could get for similar / little more $.
Found a candidate yesterday, and went to look at it. Cars.com told me it had been priced at $5500 (approx), and reduced to $3900. A loaded '03 with 240K on the clock - so I knew it would need *some* work, which I was fine with - and I'd gain the 4L80, tow / haul programming, and when the day came to go 'bigger' on the trailer...I'd be set - even for a 5er. Pics looked 'ok', so I made the drive. If anyone's interested, you can see pics
here
Unfortunately, the truck was a little *too* rough... I'll spare all the details, but it was definitely a 10-footer, body-wise (mostly rust), and mechanically - when the first thing you see when you start up is a sea of orange (CEL, ABS, SRS), followed by the DIC showing air bag & coolant messages - that's not a good sign. Engine was strong, but that was probably the strong point of the whole truck. By the end, the saleskid was asking "what I thought the truck was worth". And the owner was saying the truck would still book at $9000. They dropped to $3200 w/o me even asking / countering. But all I saw was a steady year or so of work on the thing, at $$$$. Pass.
So...now I'm back to the engine build. Will probably contact the guy on CL today and take the $500 deal for the complete LQ4. Just need to finish finding out if that 'long tail' crank is going to be a problem, block-wise (any issues swapping in a later-vintage crank)
If anyone in the IL / WI area has recommendations for a good machine shop (that won't charge like they think they're building for NASCAR), feel free to chime in.
Last edited: