I've long disliked the body-colored B and C pillars. To make matters worse, my TB is silver. I
hate
silver, but I needed the vehicle so it is what it is.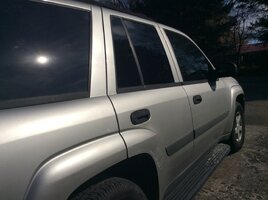 In order to black them out I considered 3 approaches: Paint, Plasti-Dip, and Vinyl Wrap. Paint and Plastic-Dip require surface prep, masking and favorable weather conditions. I chose vinyl wrap because there is minimal prep and no masking involved.
I've never used vinyl wrap before, but I have placed wall paper and window tint with varying degrees of success. I bought a 2'x10' piece of matte black vinyl from Amazon for about $15. After wiping down the pillars with soapy water, I rough cut the pieces. Peeling the backing I laid the vinyl on the pillars. It was re-positionable to eliminate bubbles and creases. I tucked the edges under trim or wrapped it around door edges then trimmed to fit.
Overall it took me about an hour working from my wheelchair. I'd rate the difficulty about a 3/10- you just need to take your time, work slowly and pay attention to detail. The appearance gets a 9/10- it's not perfect, but I think it looks great: