Registered Member
Original poster
I have a 2006 9-7x 4.2 that activates the ABS just before it comes to a stop on medium braking. Doesn't do it on soft braking, doesn't do it on hard braking. I realize these are relative, the point being it does not happen all the time, but can be made to happen consistently under some conditions.
There are several recent threads covering this. Common feedback suggests ABS sensor bad. I am on board with that, but...
I replaced the whole front end suspension, including the bearing hubs that came with ABS sensors and cables pre-installed. These are new as of July , for 4-5 months of service. Here is what the Tech2 data gathering shows: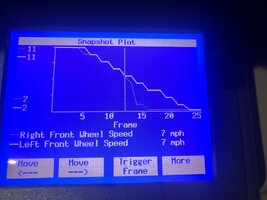 The right front wheel sensor has a definite drop off at low speed. It appears to be a consistent drop off over many stops, and sometimes the ABS kicks in, sometimes not.
Would this kind of drop off suggest ABS Sensor issue, or perhaps cable issue, or bad connector, or...?
These are the hubs I put in in July:
Order your Front Driver & Passenger Side 2 Piece Wheel Bearing & Hub Assembly Set TRQ - 1ASHS00025 today at 1AAuto.com. Up To 50% Off Prices EveryDay! Get Fast & Free Shipping On Premium Quality Parts. Shop Now & Save!
www.1aauto.com
Thanks,
Bernard