As the title says 2008 GMC Envoy Denali 4WD 86,6xx miles. Silver exterior. Grey leather interior. Location: Columbus Ohio. Inside and out I think this is in excellent condition. If I am not too lazy I will add many photos. Since you're probably familiar with Envoys I will not list all its features unless requested.
I bought this used from a dealership in April 2010. I am the second owner. Manufacture date is June 2008. No accidents, never repainted, no dents, non-smoker, no pets, no kids, always garaged. Original back row floor mats, but I replaced the fronts with rubber mats. Back cabin still has original floor mat and netting. Comes with both snow tires and three season tires. All with plenty of tread.
Lacks a sunroof (which is a plus if you don't want leaks) It has the rear entertainment system with headphones and remote (still in box). I don't think the headphones have ever been used. The remote had batteries in them and leaked acid. I am unsure if the remote is good but you can push the buttons on the DVD player instead.
Maintenance/Repair history. You can most of this info on this site.
1) Thermostat (stuck open) I think in 2014
2) Rear air bags appx in 2012. One side was sagging a little and I replaced before they went bad so I didn't burn out my air pump. I installed the Arnott.
3) Front shocks replaced May 2014 with Bilstein HD 4600 series. The fronts were not bad, I just wanted a better ride and they are better than stock. Rears are still original and seem fine.
4) Front brake pads replaced May 2014 @ appx 70k miles with Akebono ProAct Ultra-Premium Ceramics. (I thought I bought new rotors too but could not find a receipt.)
5) Both front wheel bearing hubs replaced June 2017. One side was making noise. I got the kind that have a 3 year warranty. (so not the cheap 1 year warranty Chinese ones)
6) Oil changes done about every 5k miles. Usually the car computer said I had 25-45% life left.
7) I think the front and rear differential fluid replaced or checked at 60k. (I just can't recall) If it was replaced – then I used full synthetic.
----I think that is it. -----
It has been a pretty problematic free vehicle.
What maintenance probably should be done soon. 1) Replace brake fluid 2) Spark plugs. They are 100k plugs and probably will be a good idea to replace them soon. 3) Cabin air filter. It's been a while since I have looked at it.
Now the bad (actually not that bad): You might want to replace the stabilitrak sensor. Every winter, when it's cold the light pops up. Once the cabin warms up (and the car is turned off and back on) the light will not come on the rest of the day. (assuming cabin/part is still warm). I never see it in the summer so if you're in the south you could probably go without changing it. I do have the part (OEM sealed in box) and was going to install it but when I realized bending over backwards was going to hurt my bad back... I just lived with it over the years. (it's been warm the last two years) I think (as read online) it is more about a poor electrical connection rather than a bad part but once you pull the part out you probably don't want cross your fingers electrical grease would be the fix.
Only other negative is that the Navigation DVD is not original and is a custom burn disc. Sometimes (usually in the winter) the system has a hard time reading the disc. But in this day-n-age we use our up-to-date live maps from our cellphone.
Asking $10,000. I will entertain reasonable offers. No personal checks. Bank checks or cash.
I have title. I can take as many pictures you want. Photos are not recent --- I have to take some new ones.
Evan landline: 614 eight five nine 2292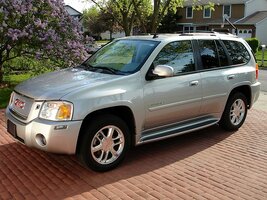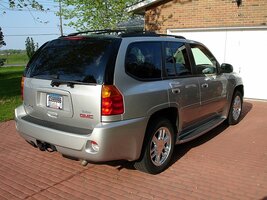 Last edited: